It is a universal truth that term plans are must and we must insure to the fullest to cover against untoward incident in our life. But have you ever thought in future how your family will manage the received claim amount in your absence? There is a high probability that they may be misguided.  So how to protect this issue? Answer is recently launched Aviva's i-Life Secure online term plan.
It is one more online term plan launched by Aviva Life Insurance. So before proceeding further let us see where this company stands when it comes to claim settlement ratio in past years. Below is the table which explains in detail.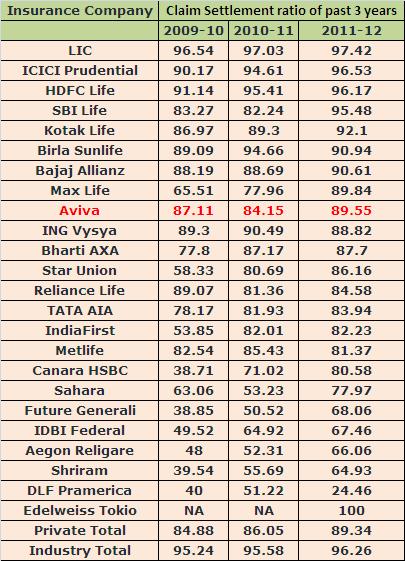 You notice from the above table that for the year 2011-12 this company's claim settlement ratio stands at 9th level. So it is left with you how much comfortable with this company. Also let me clear you the point that, this report includes all plans of individual company which consists of traditional plans, term plans or pension plans. Hence judging your buying decision based on above report is not a good decision.
Coming back to the recently launched Aviva i-Life Secure Online term plan, below are the few features.
So what are the positive and negative points about this plan?
Advantages–
The Major noticeable point about this plan is post claim how they will pay you. Instead normal one time claim settlement, in this plan death claim will be settled as below to your nominee.
One-time payment of 10% of Sum Assured at the time of claim settlement.
6% of Sum Assured for each of the death anniversary of the life insured for 15 years, with the first such payment will be made one year after the date of death of the life insured. OR In case the beneficiary would like to get a lump sum instead of the regular payouts, a discounted value of the outstanding regular installments shall be paid as a lump sum. The discounted value shall be calculated using a discount rate of 9% per annum compounding yearly.
Premium wise looking, it is still cheap with

its

existing another online term plan Aviva

i

-Life.
Premium payment yearly and half yearly too.
Installment receivable from this plan is tax free. Instead if you invest the same in a bank then the interest receivable will be taxed as per the income slab of the nominee.
Disadvantages–
The premium is cheap compared to its existing online term plan Aviva I-Life. Because in Aviva

i

-Life they need to pay the full SA at once. But in this plan they will retain the 90% of SA to pay you in installments at 6% for the next 15 years. So they will only pay you 100% of SA in installments like 10%+90% (6%*15 years). They are not going to give you extra for what they may earn on the retained SA with them. That is why this plan's premium is cheaper.
If you need a lump sum settlement in this plan they will not give you the full SA, instead they will pay you the 9% discounted value

in

your hand.
So it is sure from the above points that they will be expecting around a 9 % return from retaining your remaining SA with them. But they will not pass this benefit to you.
Extra loading on half yearly premium. Usually for all term plans currently available in India, only yearly payment is the option to pay. But in this plan they are providing you the half yearly premium option too but with extra loading.
So this plan is the combination of good and bad also. Decide your need and buy it 🙂