Recently I came across a new investor who was very much eager to start his stock investment. However, hardly know the difference between Trading Account and Demat Account. This is not the case with any new investors, but many of us do not understand the meaning and difference between Demat and Trading Accounts. Hence, in this post I tried to explain you about the meaning and the difference of Demat account and Trading account.
Before proceeding further, please have a look at a below image. It explains clearly how and in what way one can invest in the stock market and what are the importance of Trading and Demat Accounts.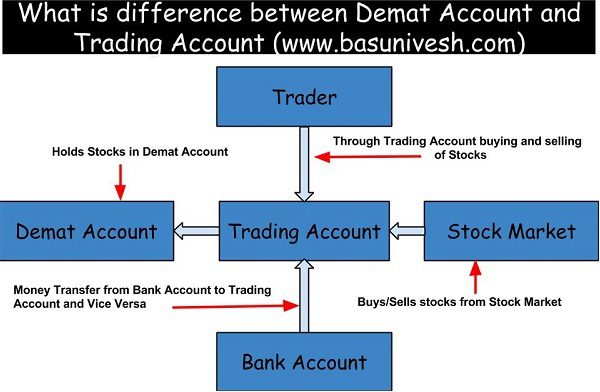 You notice that Trading Account acts as a center point in stock buying or selling activity. Whereas, Demat Account is a facility under Trading System.
What is Trading Account?
When someone tries to buy stocks, then the first requirement for him is to have a trading account. This acts like buying and selling platform. This trading account connects to a stock market, from where you buy/sell stocks. You need funds to buy stocks. Hence, you must connect your trading account with your bank account. First, you have to transfer the fund from Bank Account to Trading Account. Once the fund available in Trading Account, then one can buy stocks from the stock market. Therefore, trading account, as the name suggests, is a trading platform where you buy and sell stocks to the market.
Hence, Trading Account is an intermediary of the Stock Market, Bank Account, and Demat Account.
What is Demat Account? 
When you buy something, then you must place those materials in some place. Here in the case of stock buying such storing place is called Demat Account. Whatever stocks you buy will be held in Demat Account. It is exactly like your bank locker, where you keep your valuables. Whereas, in case of Demat Account, you hold your all stocks in electronic format.
According to the Depository Act of 1996, by SEBI (Securities and Exchange Board of India), it is must for equity investors to have a Demat account, which dematerializes or converts your stocks and stores them in electronic format.
This is the reason why broking firms offer you trading account along with demat account.
How the trading takes place?
Once you open the trading account and Demat account, fist you have to transfer the fund from a bank account to the trading account. Whenever you buy the stocks, then the equal amount cash will be deducted from the trading account. In the same way, whenever you sell the stocks, then the equal amount of cash will be deposited to your trading account.
In the same way, whenever you buy the stocks, then such stocks will be deposited into your Demat Account. In addition, whenever you sell the stocks, then such sold stocks will be taken away from your Demat Account.
In simple, Trading Account acts like a connection between Demat Account and Bank Account.
Hence, to integrate all these i.e. Trading Account, Demat Account and Bank Account, Banks started to offer 3-in-1 Account. In such accounts, your banker will provide you all the three benefits. This will be convenient for traders have one point of contact for all the three accounts. However, do remember that, in some cases, banks may put you in pressure to manage the minimum balance in the savings account. In addition, I felt the brokerage structure and cost of account opening and fees will be higher side when compared to other brokers who offer only Trading and Demat Account. However, if you are looking for convenience, then pay for it and open account.
Hope the above explanation cleared your doubts about Trading Account and Demat Account.