It is festive mood across India and we are all very much eager to buy home appliances or mobile gadgets on these auspicious days. So few consumer durable companies or intermediaries offer you banned 0% interest in different format. Once such offer is Univercell UMI.
Recently, while crossing the road I came across Univercell Showrom, which highlighting the offer called 0% UMI. With eager (not to buy, but to know more about ZERO PERCENT OFFER), I visited the showroom and found some interesting and banned loan offerings.
What is this Univercell UMI?
When I visited the showroom and asked for this offer, they gave me a contact number of Bajaj Financial Service executive. So I called him and found that it is actually a Bajaj Financial Service offer to Univercell customers (which sells mobiles and accessories). Below are the features, which shared by an executive.
ZERO PERCENTAGE interest rate!!!
This is from Bajaj Financial Service.
This offer is not for all mobile phones. However, to selected few models.
One must have minimum Rs.20, 000 take home monthly salary.
One must have Bajaj Financial Service EMI Card.
If you have credit card then they will offer you lesser interest rate (Not disclosed how much lesser as he found me asking so many questions without zeroing on the mobile phone I am planning to purchase).
Offer explained to me with an example as… Suppose you planned to buy Rs.10, 000 valued mobile phones then initially you need to pay first month instalment i.e. Rs.1, 000 (because the loan tenure is 10 months) +Rs. 750 as processing fees. So initially I need to pay Rs.1, 750 and for the next 9 months it will be monthly Rs.1, 000 only!!!
Legality of this offer–
Previous year RBI banned such loan offers which claim to be ZERO percent interest. Because such zero percent loan not at all exist. In return, lenders used to collect higher interest rates in the name of processing fees. This deal for many of us looks like a great offer. However, in reality it is nothing but one type of paying your interest in advance for your loan. Therefore, this is nothing but a scheme to allure customers as if they are offering you the product at cheap zero percent interest.
So how much it really cost you?
Before understanding how much it costs you, first let us understand the concept of APR or Annual Percentage Rate. Usually when you apply for a loan, along with interest rate lenders also charges some fees which are non refundable. The loan APR considers these costs along with an interest rate and will give you an exact cost of loan on annual base.
So the loan APR actually provides you the cost of your loan in terms of percentage on yearly base. When we consider above example, like I am planning to buy Rs.10, 000 mobile phones and for that initially I am paying Rs.1, 000 (First EMI) +Rs. 750 (Processing Fee). Then for the next 9 months I will be paying Rs.1, 000 monthly. When we calculate the Annual Percentage Rate of this, then this ZERO PERCENT LOAN will actually cost me 19.58% per year. You too can play with calculator by visiting HERE.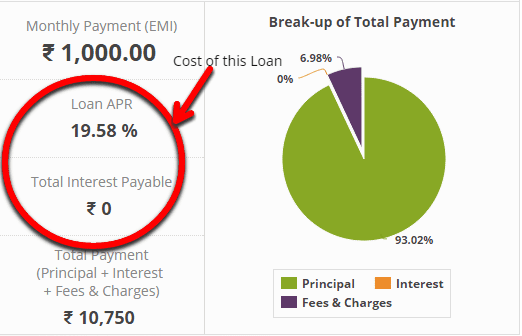 RBI banned the zero percentage EMI scheme. However, few shops offer you with different name but with the same concept, which is called ZERO PERCENTAGE. Whatever may be named, whether it is EMI or UMI, concept of loan is same and features differ to attract customers. Hope you do your homework before falling into such traps.