Look at below advertisement from SBI Bank. You may surprise to see effective  returns from Tax Saving FDs are showing as 17.39% for senior citizens and 16.64% for others. How this much high return SBI can generate from it's tax saving FDs? Let us see the marketing trick.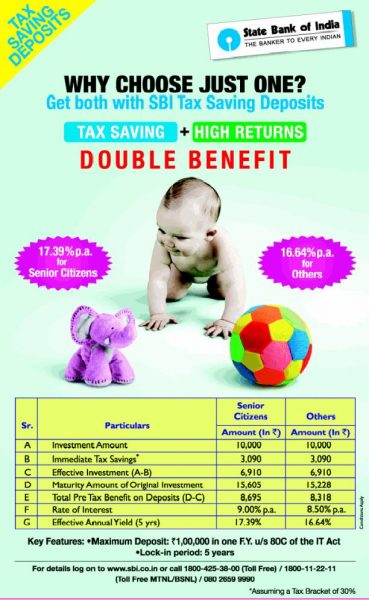 From above table you notice that the amount you are investing is Rs.10,000. Tax benefit you get immediately is Rs.3,090 (considered under Tax Bracket of 30%). So your actual investment is Rs.6,910. For this actual investment you will get return of Rs.15,605 (for senior citizens) and Rs.15,228 (for others). Rate of Interest they are quoting as 9.00% for seniors and 8.50% for others. Then how this effective annual yield is 17.39% and 16.46%?
You need to understand difference between interest on investment and effective yield. While quoting interest on investment usually taxation will not be considered. Whereas during quoting effective yield, taxation is also considered (which need to be at beginning and at end). But in above advertisement of SBI, they showed the tax benefit during the time of investment and completely neglected the post maturity tax issue.
What they showed is 50% correct, but they left the tax issue which you need to pay on the interest part of maturity. Showing tax benefit during the time of investment is wonderful idea but neglecting the taxation issue of post maturity is not worth. I will show in below table the actual tax benefit what you get from investment, what tax you need to pay on post maturity and how much is the actual yield.
From above table you notice that after considering the taxation both during investment as well as on maturity how the effective yield was reduced. I considered 30% tax bracket for both the periods.
One more point to be noted is, above effective yield will be higher if you are under 30% tax bracket. It will be get reduced if you are under lower tax bracket. So considering these effective rates without taking into what tax bracket you are into may actually again reduce your effective yield from this product.