How you pay your bills while shopping? By swapping either credit or debit cards right? Now you no need to carry cards, instead you can use your Smartphone, which uses mVisa technology to pay the bills while shopping.
Visa recently launched a service in India, which enables users to link their credit or debit card with their Smartphone banking application. Using Smartphone, you can scan the QR (Quick Response) code of a product provided by the merchant and pay the bill.
What is QR (Quick Response) code?
It is a type of 2D bar code used to have access to information through a Smartphone. Under this process, Smartphone owner points the phone towards the QR code and on the bar code reader app.
This new technology is called as mVisa. This QR code will be provided by your merchant or shop in a machine called as Electronic Draft Capture Machine (EDCM). Let us say you ordered Pizza or food from a hotel. You have to scan the QR code from the delivery boy's mobile phone. Then, using the bank application, connect your debit or credit card. Once it is connected then pay the amount by entering manually.
ICICI Bank will be the first one to launch this unique service. Later on banks like SBI, HDFC and Axis banks will soon launch this service.
How it works?
I explained the same in below image for your easy understanding.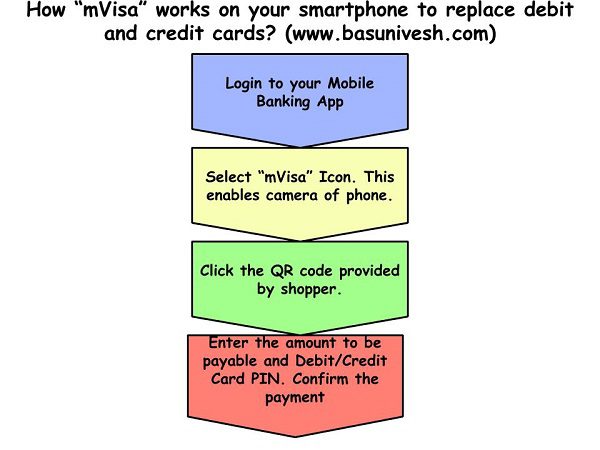 What are the advantages of this facility?
You no need to carry your credit or debit cards while shopping.
No shopping from merchant means the full payment control is in your hand.
Your PIN is secured as you have to enter it in your Smartphone rather than on the merchant swapping machine.
Entering the billed amount is in your control. So no more wrong entry from merchants.
What are the disadvantages of this facility?
You must make sure to keep the phone secure with either PIN or biometrics.
It purely depends on how your bank handles the security issues and how fast they detect the card frauds.
It may not be a game changer. But I feel this service will actually change the way we all use our Smartphone. Let us explore and looking forward to know the experience of my blog readers 🙂