Including me everybody's eyes are always on insurance agent's earning. But do you know your mutual fund agent's earning, agent who sells you mutual funds as well as charge fee (fee based financial planners) or few online portals (where you feel so comfort to invest online 🙂 )? Let us compare this issue in detail.
Let us say that tenure of investment is 15 years and investor is ready to invest yearly Rs.1,00,000. Insurance agent as usual offering a traditional plan saying secured and no risk. Where as Mutual Fund agent created a portfolio for you and recommended few mutual fund products to invest. Now let us see what are the earnings from both the format of agents.
Insurance Agents Earnings:-
Note-The commission structure will change from 1st April, 2017. I have written a post on this. Refer this new updated post at "Life, Health and Vehicle Insurance Agents Commission in India"
Usually for traditional plans insurance commission will as high as around 35% and this is called first year commission and rest of years commission is called as renewal commission. But for 2nd and 3rd years it will be around 7.5%. From 4th year onward it will be fixed at 5%. That is the reason why insurance agents lure you by sharing commission in first year of your buy. Because they are looking for long term 5% return what they get from you.
Mutual Fund Agents Earnings:-
Mutual fund agents usually get four types of commissions which are as below
1) One time transaction charge-This is fixed as Rs.150 for new investors of mutual fund and Rs.100 for existing investors. This is the cost which will be deducted from your invested amount. We need to neglect this cost as it is not high, one time and actually agent will bear this much to close the sale. This will be deducted from your invested amount either one time if you have invested lump sum or Rs.25 per month if you invested through SIP.
2) Upfront Commission-This is the commission which will be paid by mutual fund companies to agents and it included in the total expense of mutual funds. Hence you will not feel the heat of this expenses but indirectly you are paying for it. Your mutual fund agent will receive it whenever you invest newly. This commission varies from product to product, high in ELSS funds (around 4.5% to 1%), equity schemes (around 0.5% to 2.5%) and low in debt funds (around 0.2% to 0.8%).
3) Trial Commission-One of the undisclosed commission structure which you will not come to know is this "trail commission". This commission structure range from 0.5% to 1% based on the products and mutual companies. This will be paid to your agents even if you not invest also but if your investment stayed without withdrawal. This will be paid on your total net worth or asset under management. Suppose agent have around 100 clients and including all of them he have asset under management is around Rs.5 Crores then 0.5% of Rs.5 Cr is Rs.2,50,000 annually 🙂
If next year due to good market condition or additional investment by existing clients it grown to Rs.10 Cr then his next year commission will be Rs.5,00,000. But at the same time few clients withdrawn their money or total asset under him depreciated due to bad market condition to Rs.2.5 Cr then he will receive Rs.1,25,000 in that year.
This trial commission structure is actually created with good intention to protect investors in giving them good fund selection. If agents advice is good and and investors money grows then both agents and investor will get profit otherwise both will be looser. But more to investor than agent 🙂
4) Fee based on AUM of Client-This structure of collecting fee was emerged once the ban on entry load. It depends on agents to agents. It usually ranges from 1% to 2% based on the service and value agents provide you. I saw lot agents charge this fee saying they will not get anything from investor investment as nothing will be disclosed to client either upfront or trial (both are adjusted in NAV itself). Investors are thus fooled that the only expenses to them is the fee they are paying to their agents. But remember that mutual fund companies will not pay this fee to agent, instead he need to collect it from investors.
Now after understanding earning ways for both life insurance and mutual fund agents, it is now time to check who earns more. For calculation purpose I considered Life Insurance commission structure as-1st year commission 35% (including bonus commission), 2nd and 3rd yr commission 7.5% and from 4th year onward it is 5%.
For mutual fund advisers earning, I consider upfront as 0.5% and trial also 0.5%. But excluded the fee they charge as of now. Also I considered equity mutual fund investment with growth of 12%.
In both the cases yearly investment is Rs.1,00,000 and time period is 15 years. I considered 15 yrs period, because normally insurance agents will sell you the product more than 15 years as their earnings are also based on the term of the policies. Below is the calculation and result.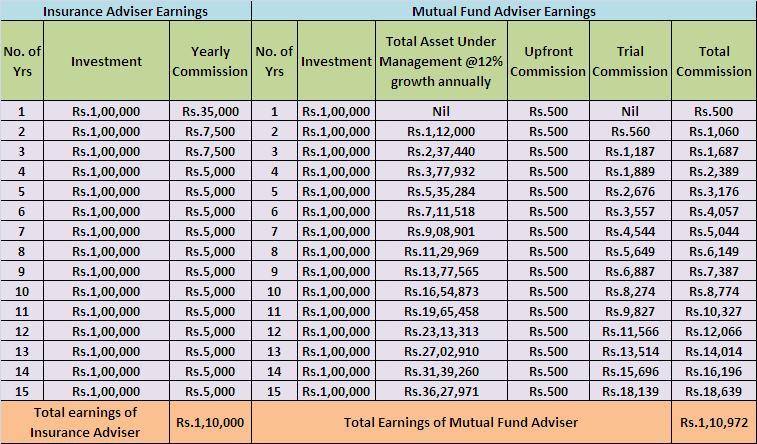 From above table you noticed that in the beginning period insurance agent's earnings are high and after 4th year it is constant till end. Whereas mutual fund agent's earnings are low at beginning but drastically improved as AUM grows. When you compare the earnings at end, both are almost equal.
So can you buy life insurance product? No…because you are buying product to fulfill your financial dreams but not your agents. Hence what I am not pointing here is buy life insurance products as investment. Instead I am pointing is how few mutual fund agents hide their earnings and disclose the earnings of life insurance agents.
Nothing is free on this earth…including my advice 🙂 But their need to be some value addition and customer centric approach. I found few investors who are still paying entry load as their SIPs were started before entry load ban and still continues.
Whether Online investment in mutual funds is direct investment or free investment?
Recently you have option to invest directly where their will not be any expense charges and NAV of that also lesser than indirect plans. So in long run you will get benefit of this. But few online portals just wooing investors to invest in mutual funds online for free !!! Is it actually free?? No it is not free to you..they are earning commission through upfront and trial brokerages. The only advantage they providing you is online service and some customized fund selection ways. So direct investment in mutual fund means direct way of investment with mutual fund companies without any mediator and selecting the direct plans also. Hence be careful while selecting the way of investment.
Finally I am neither against life insurance agents nor mutual fund agents earnings. But disclosing the true facts and opting the customer friendly approach will be a win win situation in long run. Let me see how harsh and enjoyable comment for this post 🙂
Help up to win "Indian Blogger Awards 2013" by visiting "Help "BasuNivesh"win at The Indian Blogger Awards!" and clicking on recommend tab and posting your reviews on the same.