Recently, one of my blog readers has found it difficult to transfer his PPF Account from Post Office to his SBI or ICICI Account. Hence, I thought to explain the process of transferring your PPF Account from one post office or Bank to another post office or Bank.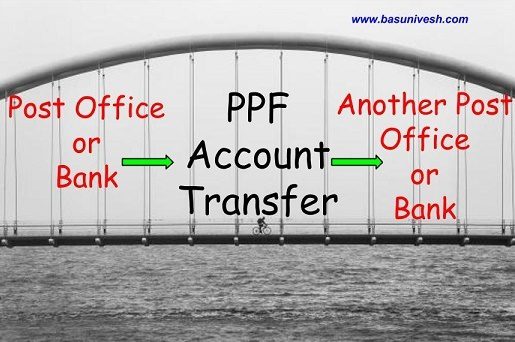 What may be the reasons for such transfer? 
Ideally, when you change the location then you feel that your post office or bank branch must be near to you. This provides a lot of ease for managing your PPF (Public Provident Fund) account. Hence, usually when people change location from one place to another or from one city to another, then they look for change their PPF account.
The second most important aspect of shifting from Post Office to their desired Bank is, again an easy of managing the PPF account. Because, as of now Post Office not provide you any such facility where you can invest in PPF account using an online facility.
Nowadays Banks offer all facilities through net banking. Hence, investors feel it more convenient to invest through Bank rather than the old boss called Post Office.
Points to remember while transferring PPF account-
Even through process to some extent looks like opening new PPF account, but still your old PPF account will continue with all old balance including interest will be transferred to a new account. Only the designated branch or post office of the PPF will change.
You will not lose interest earning on your investment. Ideally, PPF interest is calculated on lowest monthly balance between the close of 5th day and up to the end of the month. I explained in detail about this calculation method in my earlier post "PPF-When to contribute to get higher returns?" However, the interest will be credited to your account once in a year (at the end of the previous Financial Year). Hence, the post office or bank, which is transferring your account, will credit the interest up to previous March 31st balance. The interest from 1st April will be added by the transferring post office or bank.
Procedure to transfer a PPF account from one Post Office or bank to another Post Office or Bank
Take the photocopy of an existing PPF Account Passbook. Later on, this may be helpful in case you find any discrepancies in your PPF account or showing the proof of investment for tax saving purpose.
A written application for transfer needs to be made to the Post Office or Bank from where an investor wants to transfer his PPF Account. Along with this written application, you also have to fill the PPF Transfer Form (SB10-b). You have to provide your PPF Account Details, names and addresses of the branch/bank/post office where it is held, as well as the location where the transfer is sought. You will find the written application format at HERE.
The next step is a verification process of signature by the existing Post Office or Bank. Once this process is finished, then the existing Post Office or Bank will arrange to send the original certified copy of the account, the account opening application, nomination form, specimen signature, etc. to bank branch address provided by the customer, along with a cheque or DD for the outstanding balance in the PPF account.
Once the transfer documents along with Cheque or DD received by the new Post Office or Bank then you have to fill the fresh PPF Account Opening Form (Form A).
Along with that, you have to fill the PPF Nomination Form (Form E), if you have not opted nomination earlier. In case you want to change your nominee, then fill PPF Change of Nominee Form (Form F).
You have to submit fresh KYC documents once again (even though you submitted earlier or done KYC earlier with your savings account).
You will receive the new passbook from the new Post Office or Bank with past credit is shown as Balance Transfer.
 From now onward, your account PPF account will be with the new Post Office or Bank as a CONTINUED ACCOUNT.
Problems one may face during transfer-
Too much delay in transfer (especially if it is from the Post Office to Bank). The Major reason will be the lethargic attitude of officials.
Interest credit issue. As I said earlier, the old Post Office or Bank will credit interest up to previous 31st March. The new Post Office or Bank has to calculate the balance of credit interest from 1st April. However, in some instances they may consider from the date of the actual transfer. Suppose you transfer the account on 10th June 2015 then also new Post Office or Bank must credit interest considering the balance from 1st April 2015. However, few Post Offices or Banks, credit interest considering the balance from the date of transfer i.e. from 10th June 2015. Hence, check the balance and interest credited once the interest credited after the end of FY.
In such delayed or errors, you have option to complain the Bank or file an RTI to rectify the same.
Hope this information will be useful for all PPF Account Holders.