On 9th May 2015, Government of India launched one more scheme called Atal Pension Yojna (APY). This scheme launched along with Pradhan Mantri Jeevan Jyoti Bima Yojana (PMJJBY) and  Pradhan Mantri Suraksha Bima Yojana (PMSBY). I already covered both the schemes in my earlier post. Now in this post I try to concentrate on Atal Pension Yojna.
Latest Post–Difference between New Pension Scheme (NPS) and Atal Pension Yojana (APY)
Latest Updates (20th August, 2015)-Government modified some rules of APY. They are as below.
Now instead of only monthly payment option, subscribers can invest like monthly, quarterly, half-yearly or yearly.
The account will not be deactivated and closed till the account balance with self-contributions minus the government co-contributions become zero due to deduction of account maintenance charges and fees.
The penalty on delayed payment has been also simplified to Rs 1 per month for a contribution of Rs 100 for each delayed monthly payment instead of different slabs given earlier.
Premature withdrawal now be possible with some conditions. The subscriber will only be refunded the contributions made by him to APY, along with the net actual interest earned on his contributions.
Few more changes via notification dated 29th April, 2016 is as below.
Option to the spouse of the subscriber to continue contribution to APY on death of subscriber before the age of 60 years:
"If the subscriber dies before the age of 60 years, his/her spouse would be given an option to continue contributing to APY account of the subscriber, which can be maintained in the spouse's name, for the renaming vesting period, till the original subscriber would have attained the age of 60 years. The spouse of the subscriber shall be entitled to receive the same pension amount as that of the subscriber until the death of the spouse".
Retirement planning is one of the most important goals of Financial Planning. However, sadly only a few individuals plan for it. The reasons are many. Two main reasons for this are-Negligence and unavailability of a unique or best pension plan. A few years back, the Government launched the New Pension Scheme (NPS). However, it doesn't take the popularity as was expected. Again, one more pension plan launched by the Government.
How much pension you can get?
The buzzing word, that may attract you about this scheme is a GUARANTEED PENSION. This scheme offers you the minimum guaranteed pension of Rs. 1,000, Rs. 2,000, Rs. 3,000, Rs.4, 000 or Rs.5, 000 per month. This pension will start once you attain the age of 60 years, depending on the contributions made by the subscribers.
Who can invest in this scheme?
Below are the eligibility conditions for investing in this scheme-
Your age must be within 18-40 Yrs of age.
You must have a Savings Bank Account.
You must be in possession of a mobile phone. This number you must provide during registration.
How much Government will contribute to this scheme?
The Government will also contribute 50% of the total contribution or Rs.1, 000 per year, whichever is lower, for 5 years i.e. from 2015-16 to 2019-20. However, to get this Government contribution, you must enroll for this scheme from 1st June 2015 to 31st December 2015.
Please remember that this Government contribution will not be available for INCOME TAX PAYERS or individuals who are already members of schemes like
The Coal Mines Provident Fund and Miscellaneous Provision Act, 1948
Assam Tea PlantationProvident Fund and Miscellaneous Provision, 1955
Seamens' Provident Fund Act, 1966
Jammu Kashmir Employees' Provident Fund & Miscellaneous Provision Act, 1961
Any other statutory social security schemes.
Who administers this scheme?
This scheme is administered by PFRDA / Governments.
How to invest in this scheme?
Approach your bank branch where you have a savings account.
Fill the APY Registration Form.
Provide Aadhaar/Mobile number.
Ensure sufficient balance in saving account for monthly transfer. Because your monthly investment in this scheme will be through an auto-debit facility.
What will be the auto-debit date?
Your initial investment date is considered as monthly auto-debit date of investment.
Whether Aadhar is mandatory?
No, it is not mandatory. However, Aadhaar is a primary KYC document.
Nomination mandatory?
Yes, it is mandatory.
How many APY accounts, one can have?
You can have only one APY account.
Whether one can increase or decrease the contribution?
Yes, you can increase or decrease the contribution as and when required.
What will happen in case you miss a monthly contribution?
In case you will not maintain the sufficient balance on auto-debit date, then the account will be treated as default. Banks may collect the penalty for this. Such penalty varies from Rs. 1 to Rs.10 per month. Government sets a limit for this penalty as below.
Rs.1 per month penalty if your monthly contribution is up to Rs.100.
Rs.2 per month penalty if your monthly contribution is up to Rs.101 to Rs.500.
Rs.5 per month penalty if your monthly contribution is up to Rs.501 to Rs.1, 000.
Rs.10 per month penalty if your monthly contribution is beyond Rs.1, 001.
In case you discontinue the contribution, then following actions will be taken.
After 6 months, the account will be frozen.
After 12 months, the account will be deactivated.
After 24 months, the account will be closed.
How to withdraw from APY?
On attaining the age of 60 yrs-You have to fill the exit form with 100% anuitisation of pension wealth. Your pension starts immediately.
In case of death of the subscriber, the pension will continue to spouse. On the death of both subscriber and spouse, the pension corpus would be returned to the nominee.
Exit before 60 years of age is permitted only case of the death of a subscriber or terminal disease.
Settlement in a case of death of the subscriber before attaining the age of 60 years
If subscriber died before attaining the age of 60 years of age, then the below rules will apply.
If death occurs before attaining the age of 60 years of age, then his or her spouse will be allowed to continue the account in their name. The account will attain the eligibility for a pension once the age of original subscriber age reaches 60 years of age. After that, the spouse of the deceased subscriber will be eligible to receive the pension as usual.
However, if spouse not interested to continue the account, then the account will be closed and the accumulated corpus will be given to the spouse. If spouse not alive, then it will be payable to the nominee.
Whether you get a statement of investment?
Along with regular SMS to your registered mobile number, you also receive the account statement.
In the below chart, I explained how much an individual to contribute to receive the various minimum pension.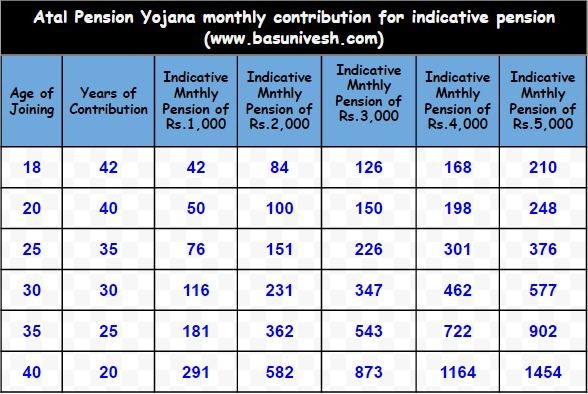 Whether it is worth to subscribe?
At first let us analyze whether this was necessary or not. We have already NPS (New Pension Scheme) Swalamban Scheme. Hence, what is the necessity of one more scheme? I feel it's more of a political stunt to create the history by launching a number of schemes.
Let us glance at the first image of this post. They showed the indicative accumulation to get Rs.5, 000 per month pension. Let us say you are 20 Yrs old, and then you have to contribute Rs.248 for 40 years. You accumulate Rs.8,50,000 at the age of 60 Yrs. Even though it is indicative, but still gives a hint about the expectation from this scheme. The returns will be shown as around 8%. Whether investing so long for retirement goal and expecting a return of 8% is worth? A simple PPF monthly contribution (however, there is a yearly maximum restriction of Rs.1, 50,000) will fetch you more than this.
Along with that, you do not feel the liquidity of your investment. All your investment will be turned to an annuity. Even they are not offering you the some percentage of commutation at the age of 60 yrs.
One major drawback of this scheme is taxation. They have not provided any tax benefit. Hence, the pension you receive from this scheme will be taxable income for you.
The Government contributes an equal amount (or maximum Rs.1, 000 per year) for only five years. However, see the conditions of eligible candidates to avail this Government contribution. First, you must not be a taxpayer and second not a member of an EPF kind of schemes. Hence, a large number of individuals automatically not eligible for this benefit. Along with that, they contribute only up to 5 years. Hence, I think this is just a political gimmick than a promotion of a true pension scheme.
How to download your ePRAN or transaction statement of APY or Atal Pension Yojana?
The facility to download and/or print ePRAN Card and Transaction Statement is made available. You can access your ePRAN Card and Transaction Statement through CRA NPS Lite website (www.npslite-nsdl.com). You have an option to search your ePRAN Card and Transaction Statement with/without PRAN details. You are then required to provide minimum details like PRAN and Bank Account Number or Subscriber Name, Bank Account Number and Date of birth registered in the CRA system under APY.
How to track your APY Grievances?
An Email/SMS alert (along with Token No.) is sent to APY Subscriber on generation and resolution of a grievance in CRA system.