Forgetting the password for your LIC log in page to pay LIC premium is common thing. Reason is you regularly not log in to this page as your premium will be either yearly or half yearly. So LIC created one more facility where you no need to register, instead directly you can pay online without any hassle. Let us look how this feature works.
Note-I recently wrote a post "List of LIC's online and offline premium payment options". Hope this will give you more insight on the other options available with LIC for premium payment.
1) Visit LIC's Home Page and click on the tab where I circled.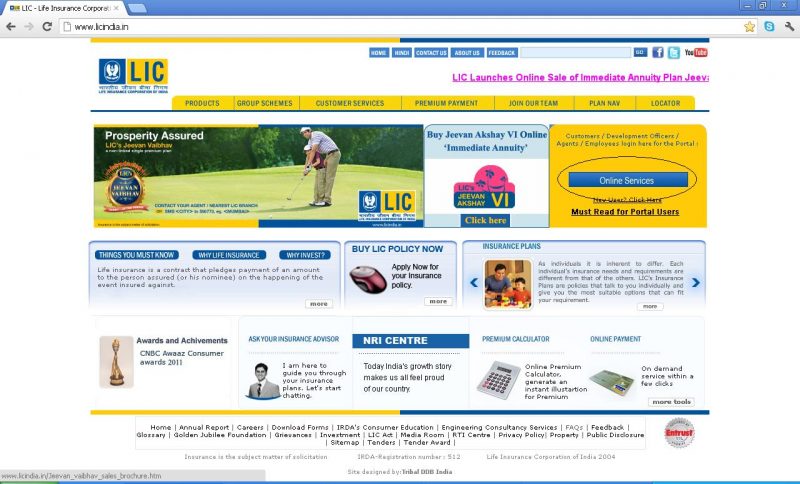 2) Once you click on above tab you will be directed to one more window which will look like below. Here you need to click on the tab "LIC PayDirect" tab which I circled in below image.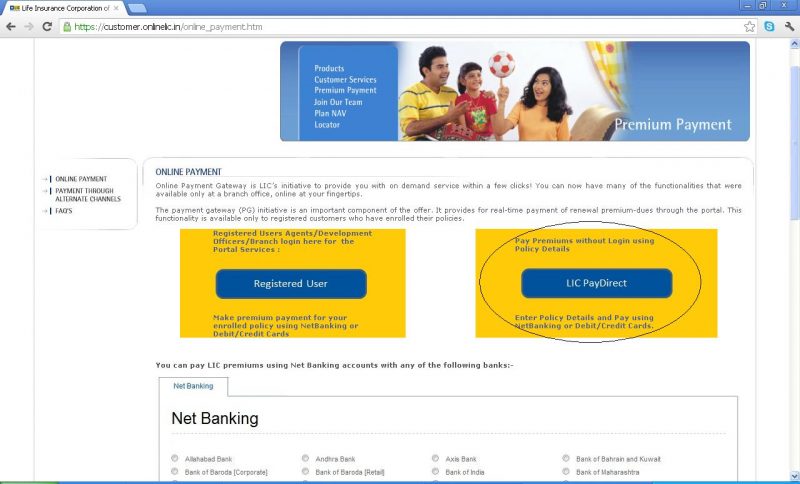 3) You will get the below window where you need to fill your Policy number, Premium you need to pay, date of birth, email id, Phone number and text which appear next to the image. Be careful to provide correct email id. Because you will get digitally signed receipt to your mail. Also no third party payment is allowed, payment should be from policy holders own bank account.
If the premium amount is debited from your account then you will but you got error page, then you will receive digitally signed receipt to your mail id within 3 working days after getting payment confirmation from bank. You need to contact [email protected] if you faced such instances. Also before retrying check whether the amount is debited from your account or not. If debited then you will get receipt within 3 working days.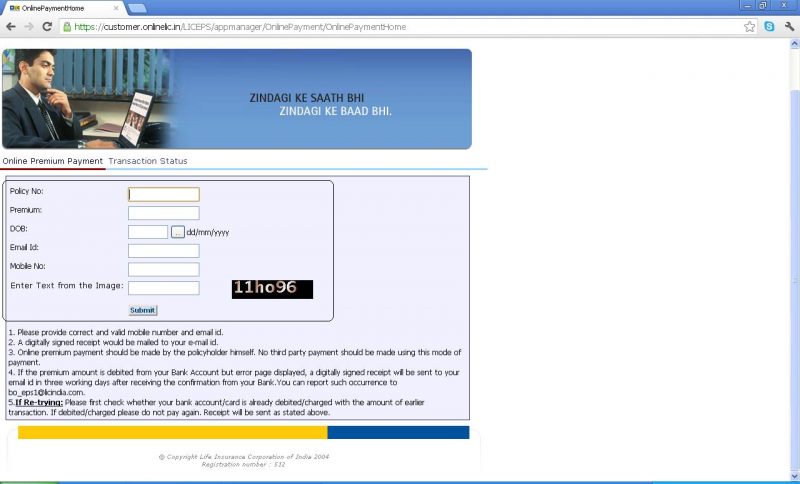 4) Once you enter the above said data, click submit. Then another window will open where your entered data will appear and you can cross check the details. Also you can add more policies for payment on this screen. Screen looks like below.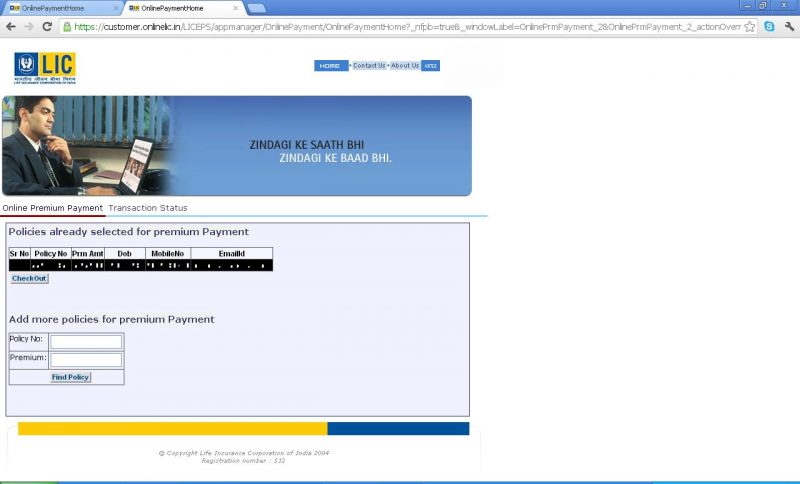 5) After clicking on the tab check out from above screen one more window will appear which looks like below. From this window you need to select the policy number for which you want to pay and then click on the tab "Submit".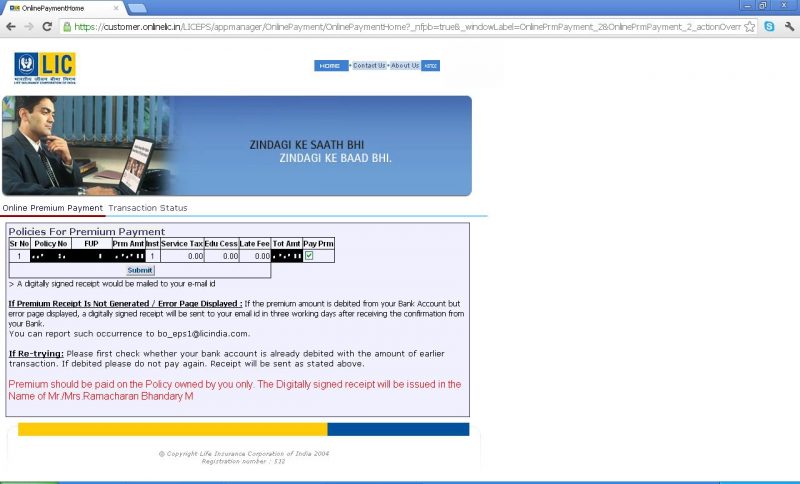 6) Now from the below screen you need to select how you want to pay, either through Internet Banking or Credit/Debit Cards (Recently LIC started facility of paying premium from credit cards too). After selecting click on the tab called "Yes".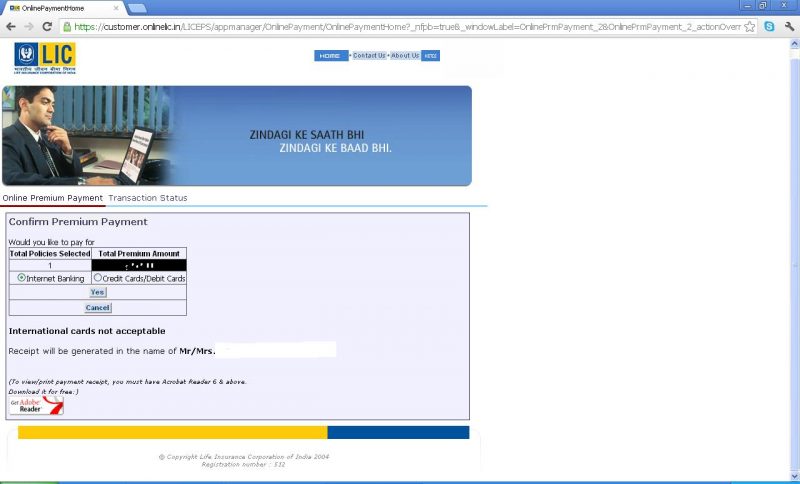 To view the receipt you need to have acrobat reader of version 6 and above. After than you need to click on the tab yes by selecting the option of payment.
7) Next it will ask for your bank selection and once you select the bank and click on the tab "Submit", it will redirect you to the your internet banking login page where you need to login and by mentioning the amount pay it. Once paid you will receive the digitally signed receipt which you can keep it as your proof of payment. Also in below screen you can notice the transaction id was mentioned (I highlighted with black colour), which will be your reference id for future conversation with LIC regarding this payment.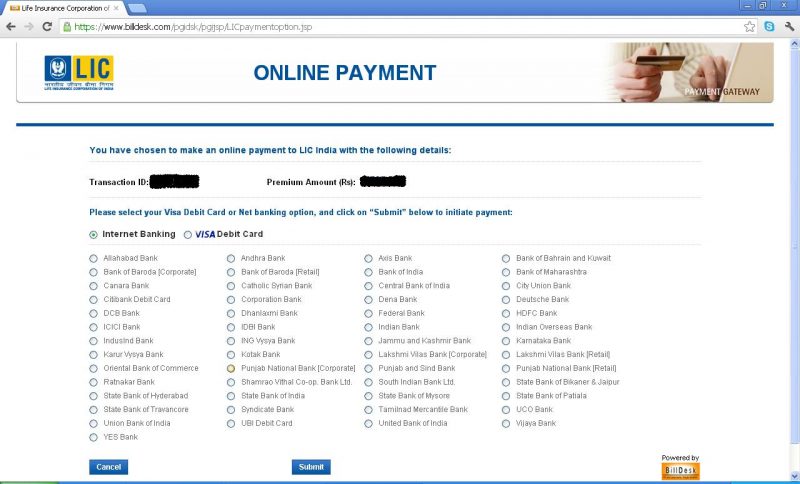 Hope this information will be useful for all.