What you do with the currency notes which are not acceptable by any of your sabjiwaala, milkman or nearest grocery owner? Will you destroy them or exchange with banks? Yes, best option will be to exchange not with RBI but any of your nearest bank!!!
Before proceeding to the rules of exchange, let us first understand few definitions of the notes which can be acceptable by your bank.
Soiled note-A currency which became dirty due to normal wear and tear or a two piece of a note where both the pieces of the same note are pasted together by forming entire note where nothing important features are missing.
Mutilated note-A note where some part of a note is missing or composed of two or more pieces.
Extremely brittle, burnt, charred, stuck up notes-A note which turned extremely brittle or badly burnt, charred or stuck up together notes. Such notes are unacceptable to banks.
Notes having the stamp of "PAY"/"PAID" "REJECT" stamps-These are the currency notes which are either already exchanged or rejected based on the quality of notes as mentioned above. Hence, notes bearing such stamps will not be acceptable by banks. Hence, it is best to not accept such stamp bearing notes from anyone.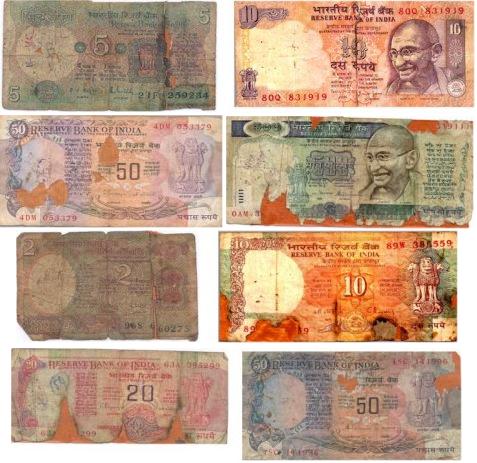 Picture Courtsey-RBI Website.
Notes bearing slogans or political messages-These are notes which contain some political slogans, disfigured or messages. Such currency notes are not acceptable by banks. Hence, never accept such notes from anyone.
Deliberately cut notes-Notes which are deliberately cut are not acceptable by banks for exchange. It is difficult to identify such notes. But still by the cuts of note bankers may identify and classify under this category to reject.
A few points to understand before going for exchange of such currency notes–
All branches of banks are authorized to provide such exchange.
This facility will be available during the time of working hours of the branch.
No bank can reject the small denomination of notes exchange.
Even if you are not a customer of your nearest branch then also they need to provide you this service.
When your notes will get rejected?
If your mutilated note represents less than or equal to 50% of a full size of the note then it will be getting rejected by banks for the currency of Rs.1,2,5,10 and 20. But for currency notes of value Rs.100, 500 or 1,000 consist of only 40% or less than that then it will get rejected.