Let us say you received your CIBIL credit report and suddenly found some Errors in CIBIL Report, then how to correct them online? In this post, we will see how to update online.
What is CIBIL Credit Report?
This score is nothing but the records of your payments pertaining to loans and credit cards. These records are submitted to CIBIL by banks and other lenders on a monthly basis.  This information forms the basis of your CIBIL Score and Credit Report which is provided to lenders in order to help them evaluate and approve your loan applications.
You have to monitor your CIBIL credit score regularly to know about the current credit score, any discrepancies in that and to know how your past financial transactions affected your score. Your score ranges from 300 to 900. Any score above 750 is considered as the healthy credit score. Any score near to 900 is considered as a healthy score. If you have a higher score, then there are higher chances of your loan application get approved easily.
Hence, it is very much important to know your CIBIL score on the regular basis. In fact, recently Government proposed that from now onward once in a year you will receive a free credit report. This itself shows the importance of credit score in your financial life.
This below video explains more about what is CIBIL Report and how to read it.

What types of errors in CIBIL Report may be possible?
It is common that sometimes there may be some errors or you may feel data not pertaining to you. If you found any such errors then it is your responsibility to correct them immediately.
Thre are usually three types of discrepancies may be possible.
# Ownership
The report data may not be belong to you. It may be someone's financial data may be wrongly linked to your credit report. Hence, it is always best to check each transaction that affecting your credit score.
# Incorrect Personal Details
Banks or financial institutions submit your personal information to CIBIL. This information contains your personal / contact / employment information such as name, address, date of birth, PAN, telephone number, income etc. CIBIL then creates your complete credit profile basis these details.
Hence, you must notice all your personal information properly. If you found any such discrepancies, then immediately you must request for correction in errors.
# Inaccurate account details
Usually, banks and financial institutions send the information to CIBIL once in a month. However, let us say you closed the personal loan on 5th August, 2016, but bank already sent your information on 1st August, 2016. If you request report after the closure of loan, then this transaction may not reflect in the credit report. It may still report your existing loan.
It usually takes around 30-45 days to reflect your last transaction. Hence, even after 30-45 days, if your transactions still reflecting in credit report wrongly, then you have to request for error rectification.
How to correct errors in CIBIL Report online?
Note that CIBIL will never update or correct your errors on it's own. CIBIL approach the banks or financial institutions and based on their report it updates your report.
The process of correcting errors in CIBIL report is called CIBIL Dispute Resolution process. For this purpose, you must have the control number. The control number is the unique found on the top right-hand side of your CIBIL Credit Information Report.
You can request for correction in errors in a single Dispute Resolution process. There are two ways to request for correction of errors in CIBIL Report online.
In both the types, the process of correction of errors in CIBIL Report will flow like below.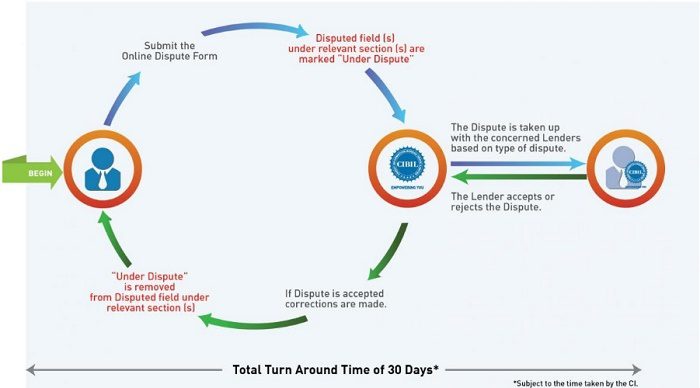 Notice that the whole process will take around 30 days time. You can dispute either ownership or particular account/enquiry. However, you can dispute only one at a time either ownership or particular account/enquiry. Both can't disputed in a single dispute resolution application.
There are two ways one can correct the errors in CIBIL Report.
1) If you obtained the CIBIL Report from bank-
If you received the CIBIL report from banks or financial institutions, then you have to follow the below process by visiting the portal of CIBIL Dispute Resolution. You have to fill the below form and submit to proceed for next steps and complete the entire process by explaining what error you found.
2) If you obtained the CIBIL Report from CIBIL–
If you have an account with CIBIL and obtained the report from CIBIL, then follow the below process for the same.

Once there is an update to your dispute (either error corrected or your request rejected), you will get an email notification from CIBIL informing you of the status of the dispute request. If your dispute is accepted and disputed information is updated, CIBIL will send your updated report.
What if CIBIL unable to update the errors in CIBIL Report?
As I said above, CIBIL not update or correct the errors on it's own by your request. If banks or financial institutions update and send the updated information to CIBIL, then only it corrects.
Hence, if CIBIL unable to update your requests, then you have to approach the banks or financial institutions for rectifying the errors. Once they update, then after 30-45 days of time, request for CIBIL report and once again verify for the same.
However, you resolved the errors directly interacting with banks of financial institutions, but still, you find the errors in CIBIL report, then there may be two reasons to it. First one is, the bank may not submitted your recent credit information report to CIBIL. The second one is, the dispute is still going on.
Hope I provided all information related to correcting or updating the errors in CIBIL Report using online platform.