When your credit history is totally at low and you are desperate to have credit card then the worst solution you can opt for is going for credit card on your Bank Fixed Deposits. Few banks offer such facility. But is it actually required?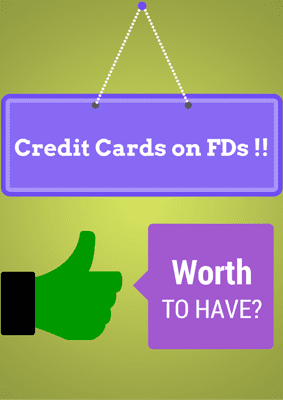 Let us first understand who can opt such credit cards.
Persons who have bad credit history.
Persons to whom no banks are offering credit card because of above said reason.
Persons who are in desperate need of have credit card (I don't know prompt them such desperation 🙂 ).
Persons who are habitual of online shopping where they can use ONLY Credit Cards.
Persons who find it easy to have two or more credit card than one to maintain billing cycle.
You see above list, and easily you can predict that none of above reasons are actually a healthy situation of one's financial life. So what is the need? But still few banks offer such credit card facility and there are customers who are very much eager to have them.
Let us see few banks which offer these plans.
1) ICICI Bank's Credit Card against Fixed Deposit–
Min Deposit Required-Rs.20,000
Min Tenure of Deposit should be 180 days.
Your Fixed Deposit must not have any lock in like Tax Saving FDs.
Minors and Foreign Nationals are not allowed.
Interest rate on credit card will be 2.49% PER MONTH. Means per year it will be 29.88% PER YEAR.
No Joining fee and annual fee.
Rs.100 off on movie tickets.
Minimum 15% savings on dining in leading restaurants.
2) SBI Advantage Plus Card–
Credit limit will be 85% of your FD.
Interest rate will be 2.25% PER MONTH.
Joining and annual fees are Rs.500.
3) Axis Bank Easy Credit Card–
Min Deposit will be Rs.20,000 and maximum is Rs.25,00,000.
No card will be issued against FDs such as Tax Saver FDs, Flexi-Deposits (Auto-sweep FDs), FDs in the name of HUF/Society/Trust/Companies.
Card will not be issued in minor's name.
Joining Fee Rs.500.
Annual Fee is NIL.
Finance charges at 1.95% per month and cash withdrawal fee is Rs.250.
Other banks also offer such credit cards. But I restricted to few banks only.
So what are the disadvantages of owning such credit cards–
Your FD is no longer a liquid asset as it is linked to credit card.
If any due prolonged then banks will adjust such dues against FD.
Credit card is nothing but a loan. So using such facility often is not a good sign of financial life.
You are opting this facility only because no banks offered you credit cards freely. So any default in payment will again downgrade your credit history.
If you opted this card with intention of have more credit cards in your name then there is high probability of increase in your unnecessary spending.