We all have a strong belief that bad CIBIL score means it affects only to our borrowing. But now bad CIBIL score affects your job or employment too. Whether it is Government or private sector jobs, now CIBIL score is a criterion to judge a candidate.
Earlier there were rumours or few instances reported in the media that job offers rejected due to bad CIBIL score. However, here I will show you the confirmation that your bad CIBIL score affects your Government job also. Go through this below job notification of SBI Bank, you will shock to know that how bad CIBIL score affects your job.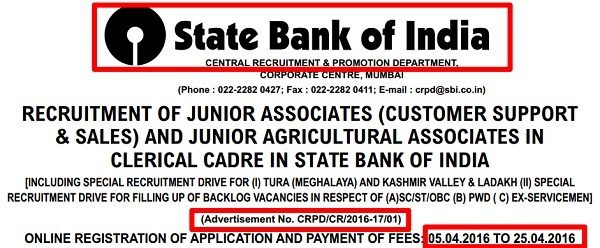 Notice the name of the bank and the date of advertisement. It is from India's number one public sector bank called the State Bank of India. Look at the year of advertisement, it the most recent one.
Now on the same notification, you will find below note.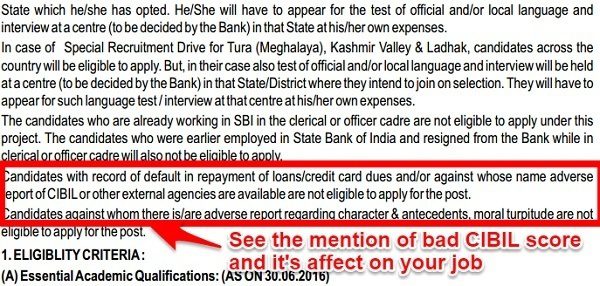 You notice that under the list of exclusions of candidates, it is clearly mentioned above CIBIL score also. It states "Candidates with record of default in repayment of loans/credit card dues and/or against whose name adverse report of CIBIL or other external agencies are available are not eligible to apply for the post"
Thanks to Mr.Melvin Joseph, who shared it on social media. Actually, verifying your credit score and they approve you as their employee is a global practice. Now it started in India.
Why such an importance to your bad CIBIL score?
Even though it purely affects one's future borrowing, why employers worry about it? Because such bad CIBIL score means an irresponsible lifestyle or candidate is not serious about money or life. Some organizations (public or private) check CIBIL score only for few roles or posts. However, few started to apply CIBIL score as the criteria for all levels of employment.
The bad CIBIL score indicates your bad intention of not repaying the dues in time. In addition, if you have high debt, then your performance may affect the job. Hence, considering all these aspects, nowadays-financial institutes, and IT companies started to verify your CIBIL score before hiring you.
Is it legal to do such verification?
There is no such legality attached to this verification. However, if you or I as an employer hiring someone, then our first priority is that the candidate must be ethical in all sense. Such cross checking of that ethic is now turned to CIBIL score. Therefore, if employers verifying it, then it is good for the employee too.
However, it may affect to some individuals who are innocent. They may not be a direct borrower or a defaulter, but co-borrowers. But it is purely an individual's responsibility to check his or her credit score. If there are any errors, then you must request for rectification. Because even a bad credit score due to the wrong entries in a report may not save you. Hence, it is always best to check your CIBIL score often.
One of the best practices is to access your CIBIL score before you apply for a job. If you find any discrepancies there, then rectify it soon and apply for a job.
As of now CIBIL score of an individual will be shared with financial institutes only. Hence, an IT company may not have access to your CIBIL score. However, they may ask you to attach your CIBIL score with your profile while applying for a job.
Whether having a good CIBIL score land you in the BEST job? NO, it is not. However, considering above example, it is now confirmed that your credit score also big criteria. Hence, along with your professional, communication, and educational skills, you must also create a healthy credit score.
Refer our earlier post on credit or CIBIL score-