The IT Department recently confirmed that as on July 27, 11,44,211 PANs have been identified and deleted or deactivated in cases where multiple PANs were found allotted to one person. Hence, it is best for you to check status of PAN card active or not online without login.
What are the reasons for deactivating the PAN Card?
# The first major reason is that you might be holding multiple PAN cards. But as per the rule, one must have only one PAN card.
# Fake PAN card allotted to individuals who submitted false documents and succeeded in getting PAN card.
# Soon in future whoever unable to link Aadhaar with PAN card before 31st August, then such individuals PAN card will be blocked.
Hence, it is always best to check with your PAN card is active or not.
How to check status of PAN card active or not?
It is a simple process and for this, you no need to login to e-Filing portal also.
Step 1-Visit e-Filing Home Page. Then click on the link "Know your PAN", which is available under Service on the homepage itself.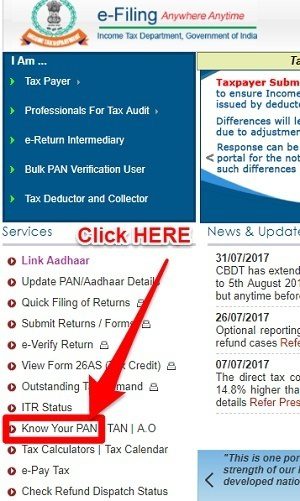 Step 2-Now you have to enter your personal details which are mandatory like Surname, Status (like Individual or what), Gender, date of birth as per PAN records and your registered mobile number. Then click on the tab "Submit".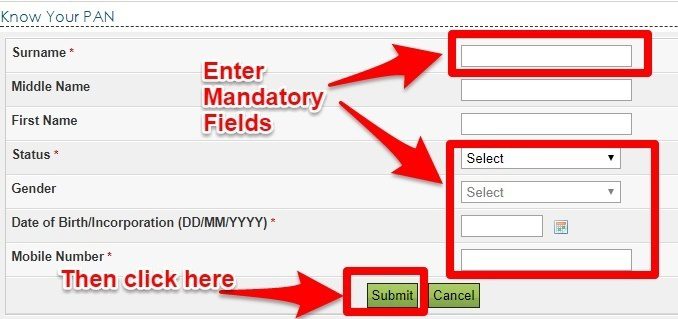 Step 3-Then you will receive the OTP (One Time Password) to your registered mobile number. You have to enter in the place provided for and then click on the tab "Validate".

Step 4-Once you click on validate, then the screen looks like below. Here, you will find your PAN details like PAN number, First Name, Middle Name, Last Name, the status of citizen, your jurisdiction and at the end, under remark, you will find the status of PAN card active or not.

If you have multiple PAN numbers registered with your details, a notice will pop up like "There are multiple records for this query. Please provide additional information." It will further ask you some more details such as your father's name.
You can also check validity status of PAN card active or not by login into e-Filing portal -> Profile Settings -> My Profile -> PAN Details -> Jurisdiction Details -> Status.
If your PAN card has been blocked or deactivated, you need to contact your jurisdictional Assessing Officer (AO) for re-activation of your PAN. You have to submit an Indemnity Bond, the copy of your PAN card and copies of last three years Income Tax Returns.