Senior Citizen Health issue is of utmost important these days. Because of raising medical expenses, higher life expectancy and high probability of health issues will ruin the financial life. Hence it is very much important to have senior citizen health insurance.
How to choose the right plan?
Below are the few points you need to consider before proceeding for buy. Choosing the right product and understanding the policy wordings is must. Otherwise sometime even though having health insurance will not be of use for you.
Maximum Sum Insured Covered-In few plans you have restrictions of maximum limit of SI. So it is always better to opt a plan which will not have such restriction or offers to cover highest that others. . Otherwise what will happen is, after some time if you try to increase your SI then it will not be possible with existing insurance.
Premium Charged-Never buy health insurance only considering the cheapest plan. Such plans may not have other additional features which are very much important for senior citizens. Hence decide on plan feature and your requirement rather than premium.
Renewal Age-This is the age after which you can't renew the plan and you will be no choice but to live without any insurance coverage. Some plans cease renewal age after certain period like 70-75 yrs. But it is always preferable to go for plan which offers lifetime renewal.
Co-Payment-This is the amount you need to pay from your own pocket during the time of claim. Hence always choose the plan which offers lesser co-payment.
Pre-existing disease covered-Opt a plan which claim to be lower waiting period. Because of this clause in your policy, you may not get claim for your existing diseases. Hence choosing the lowest waiting period is always a best option.
Limit and Sub-Limits-This is the limit which insurance company will fix the maximum amount payable if one got diseases like cancer or any other major illness. Even though you have overall high Sum Assured, but by restricting the limits for a particular disease may ruin your financial life.
Quality of service– Verify the company history related to service and how fast are they in settlement of claim. Because this matters more while emergencies. Hence verify how they are competent in handling your emergencies so fastly. Check for TPA (who are like middlemen between you and insurance company in settling insurance claims).
Below I did some comparison from top health insurance providers. I tried to simplify the points as much as possible. But for detailed product feature, you must contact respective health insurance company. Also I excluded the premium, as due to health complication senior citizen premiums may vary.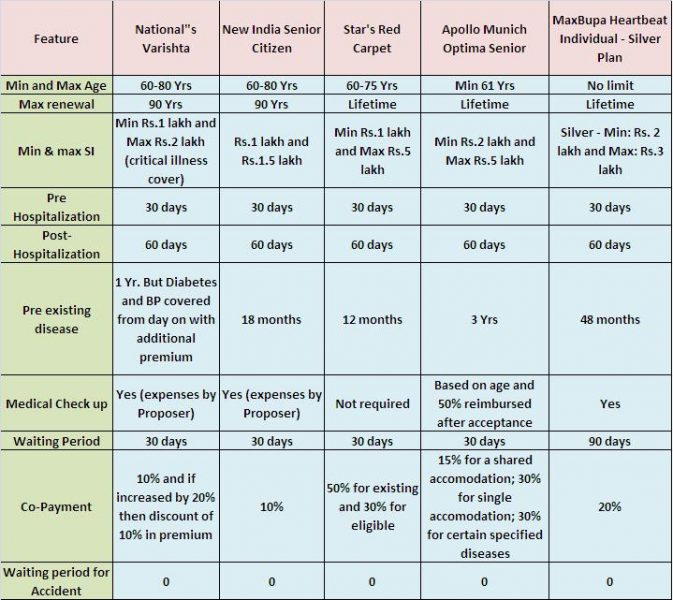 From above list you noticed that there is no such plan which we can say as best and will be suitable to all senior citizens. Hence based on the requirement one must opt the suitable plan. Hope my post will help you in choosing the right senior citizen health insurance plan.