Recently I wrote a post regarding best term insurance available in market and claim settlement ratio of Life Insurers. Few felt that they need the same data for Health Insurance Companies too. So let us try to analyze these things from the available IRDA Data.
Note-IRDA released the Annual Report for 2013-14. To know more about the latest Best Health Insurance companies, visit below link.
First of all let us understand the business model of Life and Health Insurance. Both are entirely different businesses when it comes to managing. In Life Insurance your contract with Insurance company is for long term whereas in Health Insurance your contract is on yearly base. So here in health insurance claim settlement we need to consider the yearly premium collection too. That is the reason it felt by many that claim settlement ratio is not so important. But I tried to sum up all the data available from IRDA to arrive at insurance company business.
How many Health Insurance companies are there in India currently?
According to IRDA report 2012-2013, there are 17 Private Insurance companies who do business in General Health Insurance along with Health Insurance, 4 Public Sector biggies and 4 standalone insurance companies who's core business in only Health Insurance.
Below is the table which describes the business volume and claim settlement ratio of each individual health insurance companies.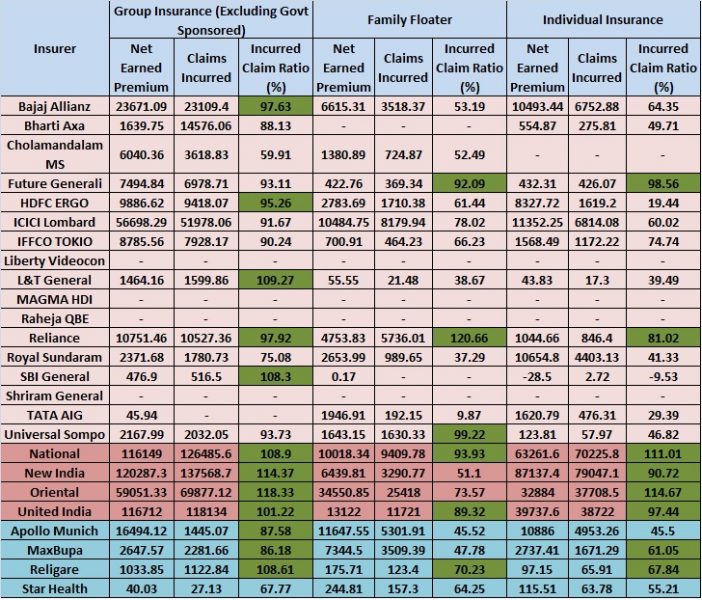 (Note-All figures are in Lakh, data based on IRDA Annual Report 2012-2013)
Here in above sheet I differentiated companies in 3 categories as I said above and coloured differently for each category. Next I considered Group Insurance Schemes (excluding Govt sponsored), Family floater and Individual Health Insurance Schemes.
You notice that in group insurance segment private insurers are aggressive in claim settlement. But when it comes to family floater then general insurance companies and public sector companies are way ahead than standalone health insurance companies. Finally for individual health insurance category again public sector companies are very much aggressive.
Surprising part to me is, standalone companies claim settlement ratio for family floater and individual health insurance policies were low compare to others. This may be due to more scrutiny in settling claims due to their in house TPA.
Hope above table will be helpful for you in choosing a best health insurer.