Which are the Best Direct Mutual Funds Platforms 2019? How to choose online and cost-effective Best Direct Mutual Funds Platforms in India in 2019? There are many platforms with different features and pricing. Hence, let us discuss this which is best suitable for you.
What is a Direct Mutual Fund?
Direct Mutual Funds means investors buy Mutual Funds directly without any middlemen. There are many portals which offer such DIRECT Mutual Fund buying platforms and apps.  Whereas regular mutual funds mean investors buy through middlemen (online or offline) like mutual fund advisers or brokers.
Due to the absence middlemen cost, such direct mutual funds offer you at lesser expenses than regular funds. The direct mutual fund has a lower expense ratio than regular funds. Because of this, the NAV of a direct plan will be higher than the NAV of the regular plan.
Difference between Direct Mutual Funds and Regular Mutual Funds
# Expense Ratio
The Direct Mutual Funds expense ratio will be lesser than the Regular Mutual Funds. However, the difference varies based on the type of funds you choose and the particular fund.
# NAV
Due to the absence of expense of middlemen, the NAV of direct and regular funds will be the difference. The NAV of Direct Mutual Funds will be higher than Regular Mutual Funds.
# Fund name
The fund name for regular funds will be like HDFC Top 100-Regular-Growth., However, for direct funds, the name will change as HDFC Top 100-Direct-Growth.
Also, you notice in your account statement, the ARN field will be mentioned as DIRECT.
# Returns
Due to less expense ratio, the returns will definitely higher than the regular funds. Even though the difference is around 0.5% to 1%, if you compound it for long-term, then it creates a huge cap.
For example, let us say Rs.1 lakh investment in a Direct Plan and a Regular Plan over 40 yrs. Your investments will be worth 35% more in just 20 yrs when you invest in Direct Plans (Assumption a 12% Return on investments and a Total Expenses Ratio of 1.0% for Direct Plans and 2.5% for Regular Plans.) Look at the below chart.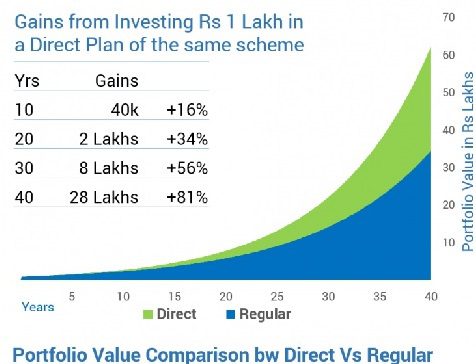 Image Courtesy-Kuvera
Do remember that in the case of both regular and direct mutual funds, the investment objective, asset allocation pattern, risk factors and the fund managers are the same. But due to the difference in expense ratio, your possibility to earn more than regular will be sure.
Advantages of Direct Mutual Funds
Below are the few advantages of investing in Direct Mutual Funds.
# Expense Ratio
As I explained above, due to the absence of middlemen the expense ratio of direct mutual funds will be lower than regular plans.
Even though the difference is around 1% to 0.5%, but in long run, this may create the huge difference. For example, if we consider HDFC Top Fund-Growth, then the expense ratio of regular funds is 2.04%. Whereas the expense ratio of direct funds is 1.29%. The difference of 0.75%. Even though such difference may not look big. However, if you are a long-term investor, then each year's such 0.75% will create a huge difference.
Do remember that the expense ratio between direct and regular will not be the same for all types of schemes and for all funds. It depends on the category of the fund and depends on the particular mutual fund.
I explained to you about the expense ratio difference between direct and regular of HDFC Top 100-G. However, if you look at debt funds, the difference is lesser than equity funds.
For example, HDFC Liquid Fund-G expense ratio for regular funds is 0.20% but for direct funds, it is 0.10%. The difference of 0.1%.
Hence, the expense ratio between direct and regular funds depends on the category of the fund and the particular fund.
# Control in your hand
Due to the absence of any middlemen, the control of investment is in your hand. If you are the DIY (Do-It-Yourself) investor or hiring a Fee-Only Planner, then opting such direct mutual funds will give you an edge.
You can manage your money as per your wish but for that, you must know what you are doing!!
Disadvantages of Direct Mutual Funds
# Service hurdles
As there are no middlemen involved, you have to take care of processing activity which involves like KYC formalities and all. If you opted for offline mode, then form filling and submitting to respective AMC is the headache of yours.
Along with this, in a later stage, you may need to change the bank, nominee or change in KYC. In such situations, it is you who has to take care of all these processes.
# May not suitable for all
If you are a DIY investor or hire a fee-only planner, then such direct funds will give you an edge over regular funds. However, if you are the first time investor or don't know about mutual funds, then the same investment may sometimes be hazardous.
Hence, know about yourself and the need to choose between direct or regular.
Best Direct Mutual Funds Platforms 2019 – A complete list
Now you understood the meaning of direct mutual funds and to whom such funds are suitable. Let us move on and find out the Best Direct Mutual Funds Platforms in India to invest online.
Currently, there are around 22 platforms through which you can invest in direct mutual funds. Choosing the best direct mutual fund platforms among them is not so easy but not so difficult also. However, considering the cost factor, I have shortlisted as below.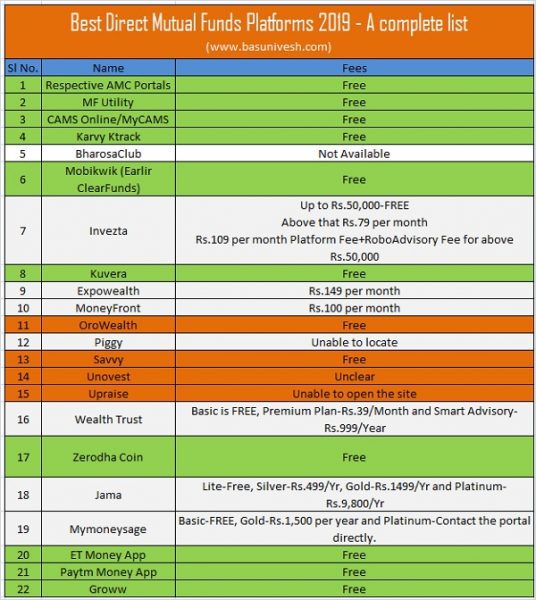 Note–
Platforms which are totally free of cost are highlighted with green.
Above chart is prepared based on the prices showed as on today. You have to refer the cost before jumping into investment.
Orowealth, Savvy are not free earlier when I wrote a post. However, currently, they are offering at free of cost.
Unovest pricing is unclear to me and Upraise website is not opening.
I will now divide the Best Direct Mutual Funds Platforms in India to invest online into three categories.
# Category One-Through Mutual Fund Companies portals
It is easy and no headache of relying on anyone if you are already KYC complied. However, the only hurdle is to remember the login details of each company portals. This is completely FREE.
Generating report is not an issue as you will get the consolidated account statements from NSDL.
However, one of my blog readers (who commented below) raised valuable points. Hence, sharing the same here for the benefits of all readers. Thanks, Manu.
In case of investment directly through respective AMC portals, apart from having multiple logins, I find the following points too:
1. Have to upload bank proof, PAN, KYC, each time for a fresh folio.
2. There would be issues while transacting physically, for eg., if you need to nominate or update nomination, some AMCs don't allow it online. When you do it physically, there can be issues of signature mismatches, as some AMCs don't have your signature for online created folios.
3. To update nominations or bank accounts, you need to run after each AMC separately.
4. To start SIPs, for each AMC, you need to give NACH mandates or use the biller route if your bank supports it.
5. All over above, each AMC has different interfaces, methods and practices.
In case of investment through MFU, I find the following benefits which other direct platforms do not have:
1. All existing folios, invested through any other route will be mapped here. And thus, nominations, bank accounts will be updated to old folios also.
2. A well-built grievance resolution routing mechanism. Even if the query relates to AMC or RTA, you can get it resolved from here.
# Category Two-CAMS/Karvy and MF Utility
You can utilize the CAMS facility for the Mutual Fund Companies to which it is a service provider. For the others, you have to rely on mutual fund companies portals only. As of now, CAMS provides services to below mutual fund companies.
HDFC Mutual Fund
DSPBR Mutual Fund
Birla Sunlife Mutual Fund
HSBC Mutual Fund
ICICI Prudential Mutual Fund
IDFC Mutual Fund
IIFL Mutual Fund
Kotak Mutual Fund
L&T Mutual Fund
Mahindra Mutual Fund
PPFAS Mutual Fund
SBI Mutual Fund
Shriram Mutual Fund
Tata Mutual Fund
Union Mutual Fund
Karvy also offers the direct fund platform. Using Ktrack app of Karvy, you can buy the direct mutual funds. Using Karvy platform, you can buy the below AMCs direct funds.
Axis Mutual Fund
Baroda Pioneer Mutual Fund
BOI AXA Mutual Fund
Canara Robeco Mutual Fund
DHFL Pramerica Mutual Fund
Edelweiss Mutual Fund
IDBI Mutual Fund
India Bulls Mutual Fund
INVESCO Mutual Fund
JM Financial Mutual Fund
LIC Mutual Fund
Mirae Asset Mutual Fund
Motilal Oswal Mutual Fund
Peerless Mutual Fund
Principal Mutual Fund
Quantum Mutual Fund
Reliance Mutual Fund
Taurus Mutual Fund
MF Utility is one more FREE platform which supports all AMCs (Except Mirae Asset AMC and Canara Robeco AMC). Hence, it is one of the best and cheapest online platform in my view.
# Category Three-Online Platforms from SEBI RIAs providing Robo Advisory
Remaining all fall under online platforms from SEBI RIAs who provides Robo Advisory or just provide you an online platform to invest in direct funds.
Here, few portals are dependent on MF Utility. Rest of all portals provide you independent service without relying on MFU.
When I last time wrote a post on this, ET Money and Paytm Money Apps were not in the list.
Top 5 Best Direct Mutual Funds Platforms 2019
Each platform provides certain positive and negatives. Hence, it is up to you to choose the one which is suitable for you.
However, in my case, I prefer the below choices.
MF Utility
Kuvera
Groww
ET Money App
PayTm Money App
If you are OK with multiple Login issues, then you can use respective AMC Portals, CAMS and Karvy also.
Do remember that these are my choices. It may not be the same as your's also. Also, in the above list, I tried myself to bring in all platforms listed. However, if there are any missing, then I will update the same.