It is common that employees end up with having two UAN numbers. UAN is the unique number. Hence, having two UAN numbers or more than two is not allowed. How to merge or deactivate such multiple EPF UAN numbers?
Note–
# EPF launched a SINGLE form for EPF Withdrawal, EPF Advance withdrawal and EPS claim, where you can withdraw EPF without EMPLOYER SIGNATURE. Refer my latest post on the same at "EPF Composite Claim Form -Single form to withdraw EPF without employer".
# EPF UAN Unified Portal-Now you can download EPF Passbook/UAN Card in a single portal instantly. Also, you can change your email and mobile number linked to your UAN. Refer the complete details at "How to download EPF Passbook and UAN Card online instantly?".
What is EPF UAN number?
EPF Universal Account Number or EPF UAN is a unique number allotted by EPFO. The UAN will act as an umbrella for the multiple EPF accounts allotted to an employee by different companies he works. The main idea is to link multiple EPF numbers allotted to a single employee under single Universal Account Number. This will help the employee to view details of all the EPF accounts linked to it.
If an employee is already allotted Universal Account Number (UAN) then he is required to provide the same on joining  the new company to enable the employer to in-turn mark the newly allotted EPF number to the already allotted Universal Identification Number (UAN).
Why two UAN numbers allotted?
As I said above, UAN number is unique to an employee. But due to some procedural errors or employee fault, there are many cases that two or more UAN numbers allotted to a single employee. There are two reasons to it.
# Employee will not share his existing UAN number– While joining the new company, employee hide his past EPF account details or UAN number. This may be due to some issues with past employer. Otherwise, he don't want to show his past experience to the new employee.
This leads to the generation of new UAN by the new employer. Hence, such employees end up in holding two UAN numbers.
# Previous employer will not update the exit date– If your previous employer will not update the exit date or last working date from his organization, then the new company where you will join will automatically generate new UAN.
How to merge or deactivate two UAN numbers?
There are two ways to do it. One is a simple one but time-consuming. The recent one (updated by EPFO on 21st September, 2016) is very useful to resolve the issue. Hence, in this post, I will share you both the process.
# First Method-Employee has to immediately report the matter either to an employer OR to EPFO through email to uanepf@epfindia.gov.in by mentioning, both – current UAN and your previous UAN. After verification, the previous UAN allotted to you will be blocked and the current UAN will be kept active. Later, an employee will be required to submit the claim to get a transfer of service and fund to the current UAN.
# Second Method-This is purely automatic one and started to apply for all future procedures. I tried to explain this new method process flow in below image.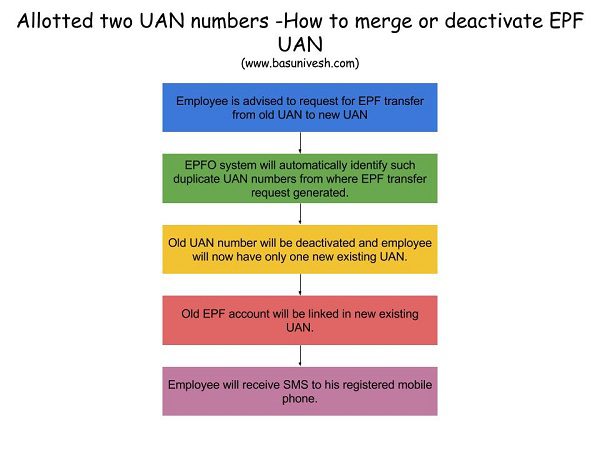 The employee should be advised to apply for EPF transfer from previous EPF account to the new EPF account. This can be done ONLINE using OTCP portal of EPFO.
The EPFO's system would then automatically identify such cases where the EPF transfer has been effected from one EPF account to another and have two different UANs attached to these EPF accounts of the same employee. This is as said automatic one and will be processed on a periodic basis.
All such identified old EPF UAN numbers, from which EPF transfer has been effected to EPF account having different EPF UAN (new EPF UAN), will be deactivated. After this, the old UAN numbers will cease to exist and are blocked for further use.
This procedure of merging multiple UAN numbers will be carried out by EPFO on a periodic basis and can also be performed even when no requests have been received from its members.
After this, employee previous EPF account will be linked to the new UAN.
The employee will receive information about the deactivated status of his previous UAN by SMS to the registered mobile number. The employee will be requested to activate the new UAN (if it is not done) to get the updated status of his EPF account.
Sometimes, there are chances that employee may have to receive some EPF arrears from his past employers, in such cases, since the system knows the new UAN against the deactivated UAN, the system would automatically populate the new UAN in the ECR (after punching the previous UAN or EPF number by the previous employer) and the statutory contribution by the employer against the arrears can be remitted against new UAN only.
As per above mentioned two methods, I feel the second method the best one. But the only thing you have to do is to request for EPF transfer. Rest of the process is an automatic one. Also, keep in mind that both UAN must have updated KYC details like mobile phone number or email id. This will actually leads to the receiving updates regularly.
Hope this information will be helpful to many. Let me know if you have any concerns.
Note–EPF Grievance Cell -Lodge EPF related complaints online