From now onwards you can set a Systematic Investment Plan or SIP in NPS using the D-Remit deposit facility of PFRDA and get the same-day NAV. It is one of the best features one can opt for if you are investing regularly in NPS.
What is D-Remit Deposit Facility in NPS?
D-Remit is an electronic system through which money can be directly transferred from your Bank account to the Trustee Bank (currently Axis Bank) so that you can get same-day Net Asset Value (NAV) for your investment in NPS. To use the D-Remit process under NPS, a Subscriber is required to have a Virtual ID (or Virtual Account) with the Trustee Bank.
The D-Remit process will optimize your investment as you will get the same-day NAV if contributions are received at Trustee Bank before 9:30 am on any bank working day except Saturday, Sunday and Public Holidays.
The contributions received after 9.30 AM will be invested on the next working day, i.e. T+1 day. In the existing model of deposits such as e-NPS or Points of Presence(POP) contributions are invested into NPS after two working days, i.e. T+2 days.
However, if you use the D-Remit facility then the subscribers will get the benefit of same-day NAV by depositing contributions into NPS investments on the same working day, i.e. T day if deposits are made before the cut-off time.
The existing NPS subscribers under Government/Non-Government/All Citizens model can avail the D-Remit facility at no extra cost by logging into their respective CRA system and creating a Virtual ID linked to their Permanent Retirement Account Number (PRAN).
Earlier, when the D-Remit facility was introduced the cut-off time to avail same-day NAV was 8:30 AM. However, effective from 12th November 2020, the cut-off time has been revised to 9:30 AM.
D-Remit enables the subscriber to set up a Systematic Investment Plan or SIP in NPS through Auto Debit facility. The minimum value of investment is Rs.500 per transaction in both Tier 1 and Tier 2 Accounts. The virtual ids are unique for both Tier 1 and Tier 2 Accounts.
The Pre-Requisites for initiating the D-Remit are:-
# You must have a active PRAN.
# Your mobile number must be updated in NPS.
# You must have an internet banking facility with your bank.
Steps to create Virtual ID to avail D-Remit Facility
Let me explain the steps which PFRDA shared beautifully.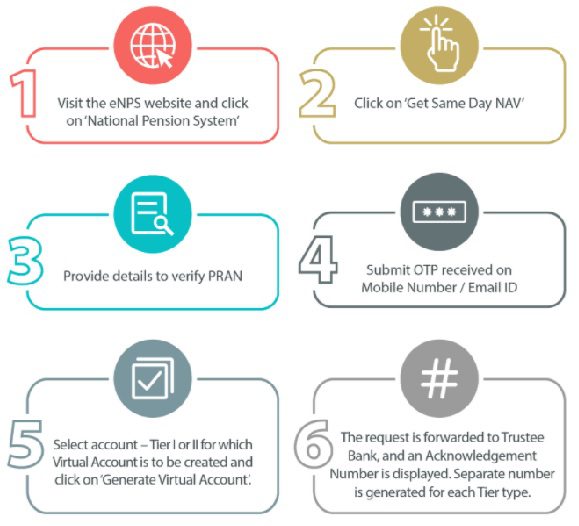 After authorization by Trustee Bank (by next working day), Virtual Account becomes active. A confirmation on activation is sent from the CRA system. In case, you are using D-Remit facility for both the Tiers, two separate Virtual Accounts are created. The sixth digit of your Virtual Account with '1' or '2' is the identifier for Tier I and Tier II accounts respectively. It is required to create separate Virtual Account Number for both the account of NPS i.e. Tier I and Tier II.
If you still have doubts in creating the Virtual Account, then refer the Guidance of PFRDA.
Steps to add Virtual Account as beneficiary in your Bank Account
After creation of Virtual Account, the next step is to add it as Beneficiary. The step is simple and explained as below.
Once you add the Virtual Account as beneficiary, depending on the features provided by your Bank, Standing Instruction to your NPS account can also be utilized. If you give a Standing Instruction to the bank, from your account, the money will be directly debited and you will get same-day NAV in NPS.
Few Points to note:-
To get same-day NAV, the cut-off time for fund receipt is 9.30 AM. In case of receipt of funds after 9:30 AM (or funds received on a non-working day – Saturday, Sunday or a Public Holiday), NAV of the next working day will be applicable. Please note that the cut-off timelines mentioned are subject to regulatory changes.
Please note that the minimum contribution amount through the D-Remit feature is Rs. 500 and above for both the Tiers respectively.
Please use RTGS/NEFT as the mode of remittance for utilizing the facility of D-Remit to Trustee Bank. IMPS is currently not accepted by the Trustee Bank for this transaction.
There are no charges to use this facility. It is free of cost.
Conclusion:- I think this is the wonderful feature what PFRDA offering the NPS investors. Let us see to what extent the investors utilize it.
Refer our posts realted to NPS:-
Refer our latest posts :-