Today Prime Minister Narendra Modi is about launch his dream project called Jan Dhan Yojana. This creates a massive penetration of banking facilities among the Indian population. This may look big booster. However, I feel there is no coordination among Govt organizations.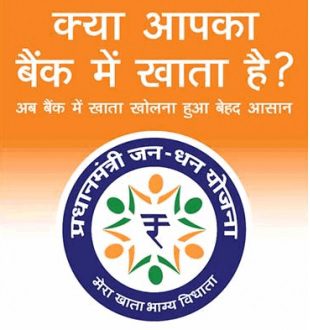 Below are some unique features of this scheme.
The main aim of this scheme is to bring the population to the banking system, who are out of banking service and debit card service.
This scheme is for rural as well as urban people.
Once an account opened under this scheme then account holder get a debit card. This debit card is under RuPay Scheme. RuPay is Indian version of the card network owned by the National Payments Corporation of India. It is exactly like Visa or Mastercard service.
The account holder will get Rs.30, 000 insurance coverage from LIC.
Cardholders will get Rs.1, 00,000 accidental insurance coverage from HDFC Ergo. Insured will get this amount in case of permanent disability or death.
However, do remember that accident insurance will be available only in case of active debit cards.
Card considered only in case cardholder swiped it within 45 days of claim.
Once an account active for 6 months and linked to Aadhar identity, then account holder will be eligible for an overdraft facility of up to Rs.2, 500 and may increase up to Rs.5, 000 depending on the Bank's decision.
With the launch of this initiative, financial necessaries of individual will meet easily than depending on moneylenders.
Above-mentioned features are the information which currently available. Once I get more information then will update the same.
Is it feasible?
Recently RBI's charged rules for overusing of own bank ATM or other bank's ATM for metro cities. I feel there is no co-ordination between the finance ministry and RBI. Because on one way, the Govt is mooting it's dream project. However, on another way RBI is restricting more usage of ATM.