Are you aware of No Cost EMI from Amazon and Flipkart? They claim that No Cost EMI is ZERO interest, ZERO down payment, and ZERO processing fee. How is it possible?
However, as per the RBI notification (dated 17th September 2013), RBI prohibited financial institutes in offering ZERO percent interest loans. In such a situation, how one can offer No Cost EMI at ZERO interest, ZERO downpayment and ZERO processing fee?
Let us first understand the players involves in the online selling business.
# Buyers
It is you who browse online and place the order.
# Sellers
Sellers are not Amazon or Flipkart, but there are others who actually sell the products or brands by getting the orders on behalf of Amazon or Flipkart. You may find the seller details while buying the product or on the bill itself.
# Amazon or Flipkart
They are simply providing the connectivity between buyers and sellers and earning in between.
No Cost EMI from Amazon and Flipkart – How does it work?
Let me share what Amazon define this No Cost EMI as "No Cost EMI is an offer by which the total amount paid by you to the EMI provider will be the price of the product split equally across the EMI tenure. The interest payable to the bank will be offered as an upfront discount during checkout, effectively giving you the benefit of No Cost EMI.".
Let us take an example to understand this concept in detail.
# Assume that you are buying a product which cost you Rs.30,000.
# Assume that there is an upfront No Cost EMI  discount of Rs.638. This is equal to the interest your bank will charge you on 3 months EMI (which is based on the inputs of the credit card you are holding).
# Now the price of the product is reduced to Rs.29,362.
# However, your bank will charge you the interest on Rs.29,362 (but not on the price of the product which is Rs.30,000) as this is considered as the actual loan amount. Hence, for bank the credit is Rs.29,362+Interest of Rs.638 for 3 months=Rs.30,000.
# This Rs.30,000 will be converted to EMI of 3 months of Rs.10,000.
Hence, in the end, you are paying Rs.10,000 EMI for Rs.30,000 product in three installments without any interest, down payment, and processing fee. Let me show the same through below image of Amazon.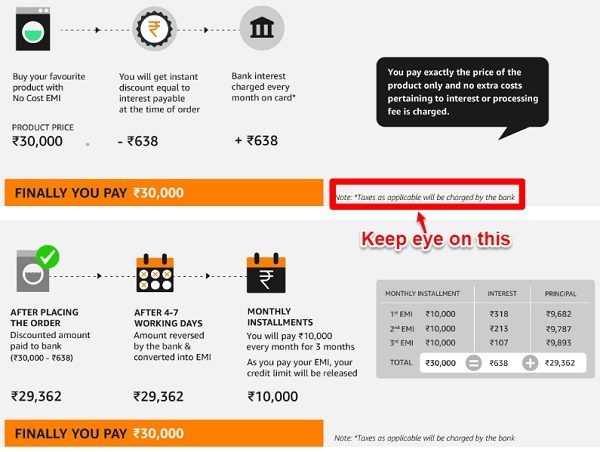 However, there is something you have to be cautious. concentrate on the above image and see the NOTE, it is mentioned that Taxes as applicable will be charged by the bank.
Who will pay the No Cost EMI Discount?
As I shared above about the RBI notification that no financial institutes are now allowed to offer the loan at ZERO percent interest. In such a situation, who will pay your interest part?
It is neither you nor Flipkart and Amazon, but the sellers, retailer or brand will bear this on their head. Hence, you no need to worry about this part.
Why the No Cost EMI is so short?
If you notice the No Cost EMIs, they are restricted from 3 months to 6 months. Why not for more than 6 months? The reason is simple. It is the cost borne by sellers, retailers or brand. Hence, more the tenure of the loan means more they have to pay from their own pocket.
They kept it so short that you may feel some comfortable of paying it monthly without any interest or processing charges but at the same time they must sell the products.
Hence, at the end, it is a happy situation for you, banks (who not broke the rules of RBI) and sellers.
Whether No Cost EMI is actually ZERO cost EMI?
You noticed in the above image (where I have highlighted the note) that Banks charge you taxes on such loans. Hence, this TAX is an additional cost to you which you have to bear on such purchases.
The applicable tax means the GST, which is 18% currently. Let us see how much it cost you in real after considering the tax.
You notice that even though the EMI is Rs.10,000 per month for 3 months, the actual EMI is more than this and you end up in paying more than Rs.30,000 at the end.
Hence, I may say that even though the seller borne the interest part of Rs.638, you still have to pay more than actual EMI, which these online selling portals show in such a way that you may notice it properly. Hence, seller borne Rs.638 and you have to cough the tax of Rs.114.
Hence, No Cost EMI is not completely ZERO interest or ZERO processing EMI, you still have to bear the tax on interest part. Check this cost before you jump into buying any products.