LIC Jeevan Akshay VII Pension Plan (857) introducing it from 25th August 2020. It is the immediate pension plan. At the same time, LIC is withdrawing the immediate pension option from Jeevan Shanti (850).
Considering the decreasing interest rate, it was expected from LIC that it may revise the pension rates of Jeevan Shanti. Instead, it removed the immediate pension option of Jeevan Shanti and introduced the LIC Jeevan Akshay VII Pension Plan (857).
Before proceeding further, let us understand few new words related to pension or annuity plans.
What is the meaning of annuity?
In simple term, you can say it as a Pension, where you will get regular income up to the specified period or conditions. There are two types of annuity.
1) Immediate Annuity-In this case, you invest a lump sum in a product and your pension or annuity starts immediately. Let us say you have around Rs.1 Cr and if you buy immediate annuity plans, then the pension will start immediately from next month.
2) Deferred Annuity-In this case your annuity starts after a certain period. Let us say your current age is 30 years and you are planning to retire at the age of 60 years. If you buy a deferred annuity plan, then you will invest up to your retirement age i.e. up to 60 years of age. After 60 years of retirement, your pension will start.
I tried to explain the same with below illustration as below.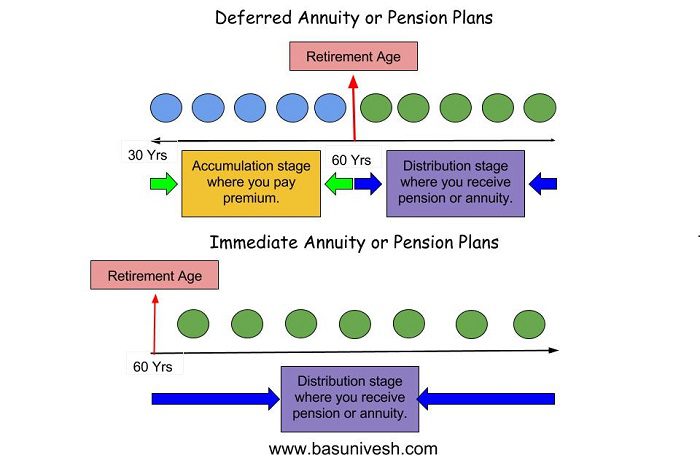 LIC Jeevan Akshay VII Pension Plan (857) – Features, Benefits, and Eligibility
Below are the silent features of this plan.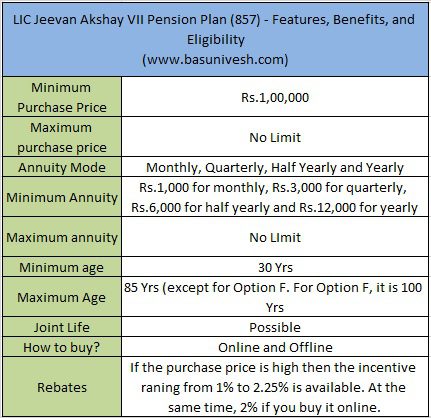 Below are the pension options available under LIC Jeevan Akshay VII Pension Plan (857).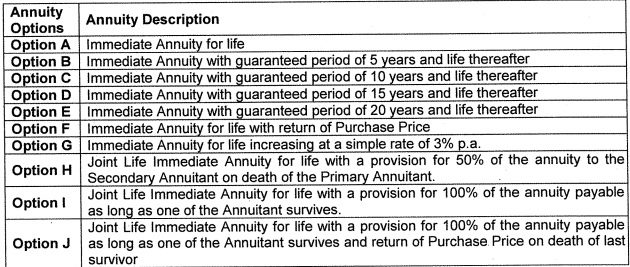 The additional feature of what this plan offers is that the death benefit payable to the nominee can be opted in installments ranging period from 5 years, 10 years or 15 years.
NPS subscribers may opt for this immediate plan. However, for Government employees, the default options are Option J and Option F.
The policy is eligible for surrender after 3 months (only for Options F and J).
You can avail the loan also under this plan.
Taxation of annuity products:-
As it is a pension plan, the pension you receive is taxable income as per your income tax slab.
LIC Jeevan Akshay VII Pension Plan (857) – Should you buy?
Let us take an example of a 50 years old guy and opting for this product. the annuity rates (for offline) looks like below.

You noticed that the annuity rates hover around 5% to 6% based on the option and the age group. If we consider the taxation, then obiviously the returns are much lower. However, such plans are suitable for those who are under lower tax bracket and looking for constant stream of income.
Do remember that inflation is one more enemy (along with taxation) which you have to consider before opting for such products.
Conclusion:- LIC Jeevan Akshay VII Pension Plan (857) is obviously offer you lesser pension than the existing Jeevan Shanti Plan. Also, tax and inflation are the biggest enemies for such plans. Do your own research before jumping into such plans. I prefer RBI Floating Rate Bonds, PMVVY or Post Office Senior Citizen Savings Schemes better option. However, it is up to you to take your own call.
Refer our latest posts:-