We all have a strong belief that only currency notes like Rs.100, Rs.500 or Rs.1,000 can be faked but not rupee coins. But you may surprise that now there are few news items about circulations of fake 10 rupee coins also. Let us see whether such news items are just rumor or real. If it is real, then how to protect yourself.
Remember that the cost of producing the fake currency coin is high when compare to producing the fake currency notes. But still, I am confused why such fake 10 rupee coins circulating (if the news is genuine).
These few news reports (India Today or Indian Express) of fake 10 rupee coins circulation will confirm the same. How to identify the same easily?There are few stories and images circulating online like the below one.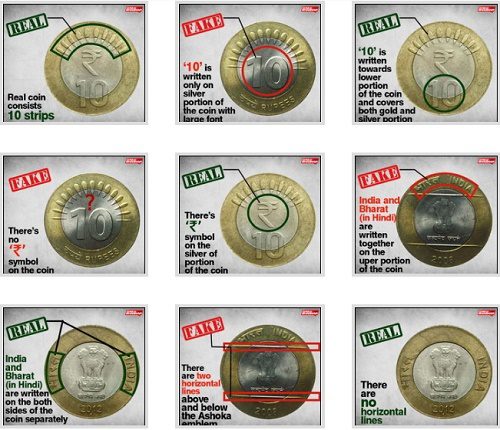 Courtesy: Daily Bhaskar
Look at the above image. I surprised how can a person who invest his money and mind to do the fake currency will commit such silly mistakes?
Do you feel the person who fake it forget to count the strips and wrongly create 15 strips instead of 10?
Same way "10" number can't be reproduced like showing partly in an inner circle and outer circle?
Do they miss to print the rupee symbol?
Do they misplace the country name wrongly?
Do they purposely create two horizontal line when everything else can be done precisely?
Whether Government of India can't release two variants of same 10 rupee coins? Yes, there is a possibility. Then how can we assume and confirm that based on some design changes we must judge this as fake? It is completely wrong. As long as RBI notify and confirm, we must assume that these are rumors.
One thing you must remember that the cost of creating fake currency coin high compared to creating the currency notes. Hence, even if someone tries to fake it then it is hard to maintain the same quality and finishing.
Based on these rumors many started to reject the acceptance of 10 rupee coins with fear. Also, there are rumors that the circulation of 10 rupee coins stopped. However, there is no such truth in this.
Note-As I expected, RBI came up and clarified the news of fake Rs.10 coin as RUMOR. The RBI released a press statement on 20th Nov, 2016 in this regard stating "The Reserve Bank of India puts into circulation coins minted by the Government of India. These coins have distinctive features. Coins in new denominations to meet transaction needs of public and coins in new designs to reflect various themes – economic, social and cultural – are introduced from time to time. As coins remain in circulation for longer periods, it is quite possible that coins of different designs and even shapes are circulating at the same time. One such change is introduction of 'Rupee symbol' in coins in July 2011. An instance of this is the Rs.10 coins with rupee symbol and the same denomination coin without rupee symbol. Both of them are legal tender and equally good for transactions, though they may look a little different.
It has been reported that some less-informed or uninformed persons who suspect the genuineness of such coins are creating doubts in the minds of ordinary people including traders, shop-keepers, etc., impeding the circulation of these coins in certain pockets of the country causing avoidable confusion.
The Reserve Bank has advised members of the public not to give credence to such ill-informed notions and ignore them and continue to accept these coins as legal tender in all their transactions without any hesitation."
What to do when you are doubtful about fake 10 rupee coins?
Approach the bank with the coins instead of verifying with someone or spreading rumors. Banks will confiscate and issue a certificate. The currency would be sent to the RBI and if it is judged as a fake, a police investigation could be started. If not, it will be replaced.
But remember that there is no such arrangement with the bank to exchange the counterfeit coins or currency notes. As per RBI circular, "all banks are mandated to accept coins of all denominations which are only legal tender from any individual without any restriction and pay the equivalent value in notes."
These coins are minted by Government of India and by rule you can't deny or refuse to take it. It is the national currency and none can refuse it as the Government of India promises to pay the value of the currency to the bearer.
As of now RBI has not issued any such guidelines regarding the banning of 10 rupee coins. If someone refuses to accept, this can be booked under Sec.489A to 489E of the IPC.
Here I am not saying whether the news about fake 10 rupee coins is genuine or not. But what I am pointing is, don't spread rumors. Instead approach the bank if you have doubt about coins genuinity. Let they verify it. Never ever allow space for baseless rumors.
Refer recent changes in currency market and the latest posts related to it-