Hiring a Financial Planner? Then you must know that these days everyone who are into financial industry claims that he or she is the financial planner. So how to identify the quality and well qualified financial planner is the tricky issue. Let us discuss about the importance of Certification for Financial Planners and how to find them.
As said above, these days you notice that including CAs, CFAs or MBA graduate claims that they are the financial planners. Because FINANCE is attached with the profession. Even though above said professionals have a high degree of knowledge but still lacks the efficiency of understanding the issues related to personal finance. CAs may have sound and indepth knowledge about taxation but at the same time we can't claim that they are well versed with other part of financial planning.
One more category of professionals who claim as financial planners are insurance agents, mutual fund agents PMS professionals or wealth management professionals. They are expert and taken the desired qualification from the regulatory to do the business in the concerned selling of financial selling products. But in reality they lack the broader aspect of the client's need.
So to avoid such flaws in claiming, there exist a certification for financial planners too. It is exactly like how CAs or Doctors will get after going through the desired skill in their respective field. In India Financial Planning Standards Board of India is the authorized board to award CFP certification to an individual. This process of awarding certificate involves education, examination, experience and ethics set by the board. Also there exists the condition that one must have a continuing education requirement. This makes a professional to be up to date in knowledge about personal finance.
ABOUT FINANCIAL PLANNING STANDARDS BOARD OF INDIA
Financial Planning Standards Board India is a Public – Private Enterprise and a Professional Standards Setting body that proactively guides the development and promotion of standards for Financial Planning professionals to benefit and protect the public in the country. FPSB India is set as self regulatory organization which is governed by it's ethics and rules mandated to members. At the same time FPSB India works closely with stakeholders like Government, Regulators, Industries, Corporate, media and general public to achieve it's objectives. This is the only organization in India which awards CFP certification through an affiliate agreement with FPSB Ltd.
How to search CFPs of your City?
1) Visit below site of FPSB India.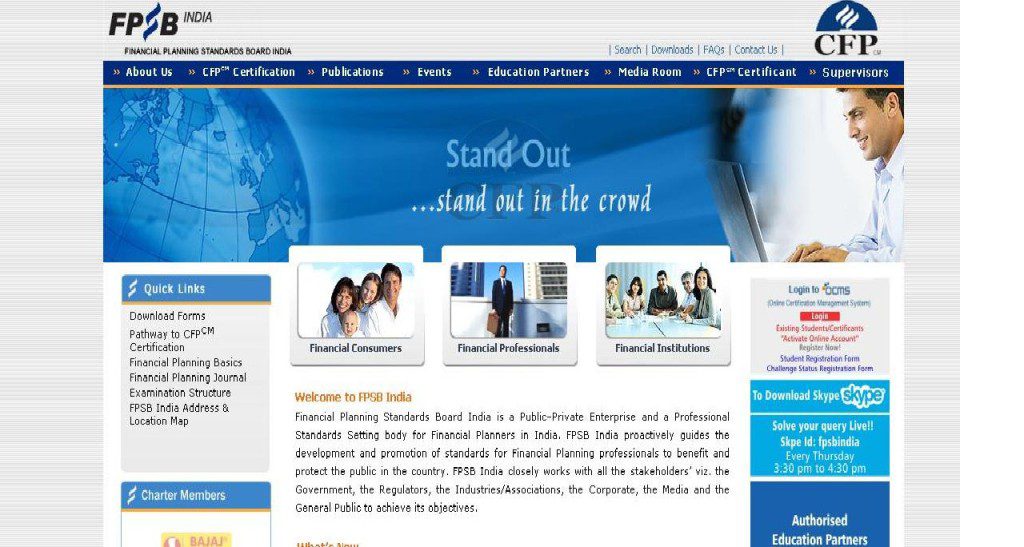 2) Click  CFP Certificant Tab. Then you will get the below screen where you need to enter the options like name or company, City or State and the nature of employment of CFP you are looking for (like self employed, corporate, employed or owner or firm).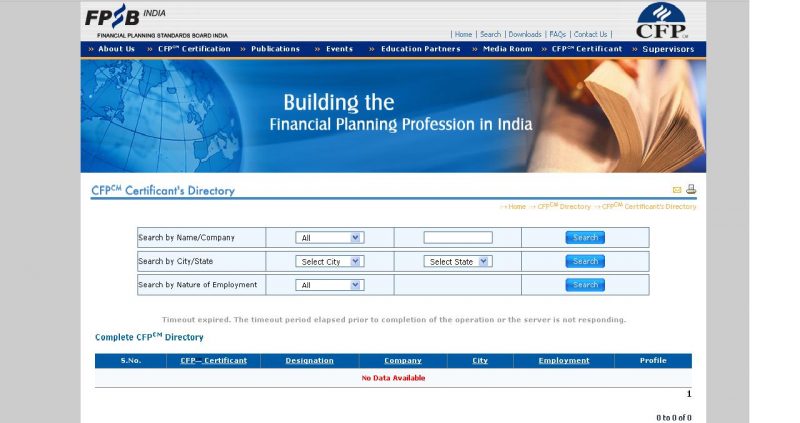 3) Once you enter the data as required in above image, you will get the list of planners based on the creteria you opted. Then if you click on individual names, you will see the below image where you will get all information about the individual planners profile and contact details.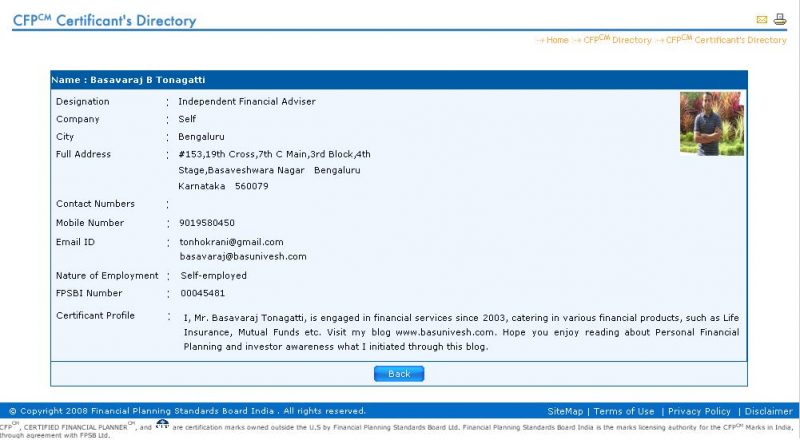 Hope the above information will be helpful for all who are looking for CFPs in India.