ECS Nach Mandate is one of the finest online auto debit procedue India has adopted. However, once you give ECS NACH mandate, then you must also well in advance aware of the rules of how to cancel or stop ECS NACH mandate. Let us discuss on this subject in today's post.
I have written a detailed posts about NACH mandate (You can refer it at "All about NACH (National Automated Clearing House)" and "Video Tutor-How to fill the NACH Application Form?").
The major comments for those two posts were the the problems related on how to cancel or stop the ECS NACH mandate. Hence, I thought to write a separate post on this.
How does the ECS NACH system work?
Let me explain the same with below image for your simplicity.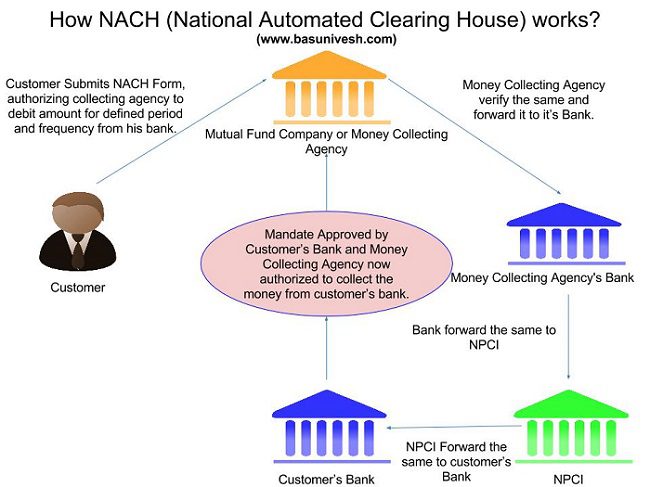 You can refer the below video of NPCI for the same.
You notice that here customer means you. NPCI (National Payments Corporation of India) is an organization, which meant to consolidate and integrate the multiple systems with varying service levels into nationwide uniform and standard business process for all retail payment systems. The other objective was to facilitate an affordable payment mechanism to benefit the common man across the country and help financial inclusion.
What is the difference between the ECS and NACH?
# In case of ECS, the process is manual. Hence, takes more time or verification issues. However, in NACH it is defined workflow, which reduces the time.
# In case of ECS, you will not get a unique mandate registration reference number. However, in NACH you get it and can be used for future reference.
# In case of ECS, the possibility of higher rejection ratio. But due to less paperwork in NACH, rejection ratio is less.
# Settlement of payment, usually takes 3-4 days in ECS. But in case of NACH it will be settled on the same day.
# There is no such dispute management system placed in ECS. However, in NACH it is well set and can be resolved issues easily.
# Registration of ECS usually takes around 30 days. But in NACH it is just 15 days.
Who are the participating banks?
These are the live banks for which NACH is mandatory to adopt from 1st May, 2016. All core banking enabled banks are soon going to be part of this facility. Currently, all major banks are part of this NACH.
Few other features of NACH facility are as below.
Your NACH may get rejected due to an incorrect bank account, folio number, or other incorrect details. It also gets rejected if the investor's bank is not participating in NACH.
You can stop NACH at any point of time by submitting the cancellation form.
The default NACH mandate will be up to 31/12/2099.
You can mention the frequency, amount, and date of the last debit. Also, can alter it at any point.
You can register as many NACH as possible. There is no such limit.
How to cancel or stop ECS NACH mandate?
Now you might have understood the concept of NACH and how it will work. Let us go further and try to understand the topic for which I am writing this post.
If we go by the RBI FAQs on NACH mandate, it is clearly mentioned as below:-
Can the mandate once given by a customer be withdrawn or stopped?

Ans : Yes. In case of any need to withdraw or stop a mandate the customer can do so by approaching the user institution to withdraw the mandate. The account holder / customer can also withdraw the mandate / debit instruction directly from his / her banker without involvement of the User institution. The withdrawal instructions of a customer in such cases would be treated equivalent to a 'stop payment' instruction in cheque clearing system. However, as a matter of best practice, the customer may also provide prior notice or intimation of mandate withdrawal to the ECS user institution well in time, so as to ensure that the input files submitted by the user institution does not include the ECS Debit details in respect of the withdrawn / stopped mandates, leading to avoidable returns/rejections etc.
RBI clearly mentioned that you can either approach your bank or to an insitution to whom you have given such ECS mandate ( mean to the lender of your bank, electricity board, water board, mutual fund company or any organization to whom you authoritzed to collect the money from your bank account).
Few Mutual Fund Companies, Banks or Stock Brokers offer you to cancel your ECS NACH mandate cancellation request online itself. However, there are many who not offer such facilities and it is a struggle for you to cancel your mandate. In such a situation, the best idea is to approach your bank and apply for NACH cancellation. Otherwise, a reversal of NACH mandate is nothing but a dishonor of payment and it may impact your credit score.
You can use the same NACH registration form to cancel the mandate. I have created a video on this. You can refer the same for further understanding of how to fill the NACH Form.
Conclusion:- NACH facility is a wonderful option for auto-debit of your payments or investments. However, knowing about how to cancel is also important before you give such a mandate to someone.
Refer to our latest posts:-