Under the PM Garib Kalyan Yojana, Govt credit 3 months contribution to EPF account! Now, this got extended for another 3 months (June, July and August 2020). This is a relief announced recently and notified by EPFO today. Who is eligible for this facility?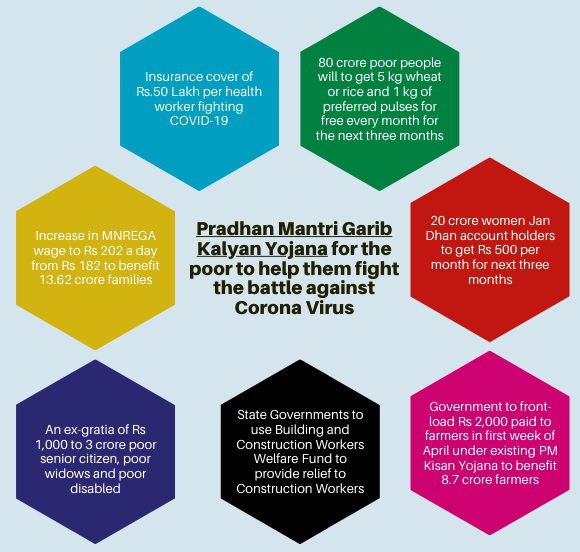 If you are eligible for this, then the entire employee's EPF contributions (12% of wages) and employer's EPF & EPS contribution (12% of wages), totalling 24% of the monthly wages for the next three months (now for another 3 months from June, July and August 2020) shall be directly paid by the Central Govt. in the EPF accounts (UAN) of eligible employees in employed in eligible establishments.
As there will be no deduction from wages of eligible employee so he/she will have a higher take home salary.
Eligibility to avail Govt credit 3 months contribution to EPF account
# You must be a member of EPF.
# Your salary (Basic+DA) must be less than Rs.15,000.
# Your company must be employed up to 100 employees.
# Under such total employees, 90% or more than such employees earning monthly salary of less than Rs.15,000 (Basic+DA).
# This Scheme will be valid for wage months- March, 2020, April, 2020 and May 2020. Now it is extented for the months of June, July and August 2020.
# Your UAN should be seeded with Aadhaar Card.
# Your EPF and EPS contributions are at least from last 6 months i.e September 2019 to February 2020.
# EPF members who are not EPS members due to completion of 58 years shall be eligible provided other conditions are fulfilled and the contribution from Central Govt. will be credited to his EPF account.
# Even the exempted eshtablishments are also eligible for this (provided, they are fulfilling above eligibility).
# If you are Aadhaar is not seeded with UAN, Online e-KYC facility is available to the member on EPFO Portal as well on UMANG mobile App to self-validate their UAN with Aadhaar without any intervention by Employer. This is in addition to Online Aadhaar validation in member's UAN by the employer. Since the validation is Online, the seeding of Aadhaar in UAN can be completed now also.
Refer the FAQs in this regard at EPFO Website.
Process to avail Govt credit 3 months contribution to EPF account
The relief announced by the government can be claimed by eligible organizations/establishments by filing Electronic Challan-cum-return (ECR). The due amount on behalf of Employers and Employees reflected in the ECR on account of EPF and EPS (24% wages) will be credited by the Central Government for three months in UANs of contributory EPF members.
Around 79 lakh subscribers and approximately 3.8 lakh establishments are expected to benefit benefit from the package. This is estimated to have a subsidy outgo of Rs 4800 crore in a period of three months.
The employer in relation to any eligible establishment, shall disburse wages for the month to all employees of the establishment and file Electronic Challan cum Return (ECR) with required certificate and declaration to avail the benefit under the Scheme.
After ECR is uploaded and eligibility of establishment and employees is validated, then the challan will separately show amount of employees' and employers' contributions due as Central Govt. relief in respect of eligible employees and the remaining amount payable by the employer.
After the employer remits the payment due from him for other employees, as reflected in the challan, the EPF & EPS contributions will be credited directly in the UANs of the eligible employees of the establishment by the Central Govt.
Conclusion:- It is a good move by the Government to protect the employees and small establishments in such a situation. If one gets additional take-home of Rs.1,800 (12% of Rs.15,000), then it may be a big relief for small salaried. The government already announced one more package of advance withdrawal from EPFO. Refer the same at "New online EPF Advance Rules 2020 – How to take advance of 3 months wages or 75% of EPF?".
But indirectly the Government has given an offer to employers also by not contributing to employees' EPF contribution for three months. If they pass the same to employees, then I think it will be a big relief for those employees who are in lower-income slab.
Read our latest Posts:-