There is a huge confusion among many investors when it comes to choosing Financial Planning Vs Wealth Management. In this post, Mr.KishorKumar Balpalli will give you the detailed explanation about this aspect.
Financial Planning – A term much associated with the wealthy alone. So is wealth management.
Thanks to the agents & distributors of financial products, the entire concept of financial planning have been made to misunderstand as investing in various products like insurance and mutual funds.
Is financial planning related to wealth and investments? Can the middle or low-income people ignore financial planning?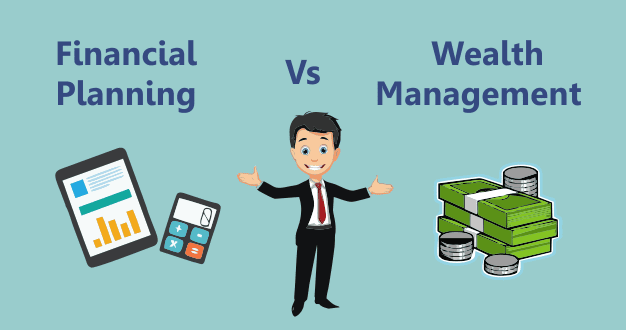 What is Financial Planning?
Financial Planning is a process achieving your financial life goals by aligning your finances with them. It means that you create a roadmap for your life which includes your goals.
This is a roadmap everyone should follow irrespective of income levels. Yes, the number of goals and the quantitative measure of your goals varies with your income levels but setting the goals and aligning your finance with them is something everyone should follow.
What does "goals" mean? Goals, in personal finance, means the objectives you want to achieve in life with your money. It could be quitting your job to build a start-up or funding your child's education or buying your dream car or constructing your dream home or taking early retirement.
But doesn't investing regularly for these goals enough? What does financial planning do differently?
Financial planning takes into account your current financial situation and your risk profile and helps you set specific and measurable goals. It also includes budgeting, efficient tax planning for your income and investments, your insurance needs and your retirement needs.
An example of a measurable goal is, "I want to accumulate Rs.20 lakhs for my daughter's education in 2030". An unmeasured goal will look like, "I want to accumulate enough money for my daughter's education when she turns 18".
Financial planning thus gives you clarity and direction to every financial decision of yours.
Is financial planning only for the rich?
It is a common misconception that financial planning is only for the rich. Most people ask, "Unless I have enough money, what can I plan for".
Financial planning has nothing to do with how much money you already have. On the contrary, you can create wealth by having a financial plan in place. In fact, the wealthy people always have a financial plan in place which helps them in channelizing their wealth to get better returns and also meet all their needs, wants and desires.
Most people get into a financial mess due to poor money management and absence of a financial plan. Assuming that financial planning is for the rich is akin to thinking you have no financial goals to meet. Let us see what creating a financial plan can do for you.
A comprehensive financial plan would cover the following:
Cash flow & Debt management
Risk Management
Investment Planning
Tax Planning
Retirement & Estate Planning
If you observe the above pointers in order, you can observe that if you manage your cash flow, i.e. income and expenses better, you will be left with sufficient surplus. If you have any debts, you can clear it with your surplus money.
If you are aware of the risks you face and how to insure yourself against them, you can not only protect yourself and your family against financial losses but also against adversities of life like sudden death, critical illness etc.
Once you have an investible surplus and have covered your risks, you can invest your money according to an asset allocation suitable for your risk profile.
Tax planning helps in plugging any leakages in your wealth and also maximizes the retention of your income.
With all these measures, there is no doubt that you are on the path to becoming wealthy. The wealth accumulated can help you plan your retirement and also, pass on your assets to your family in a smooth and beneficial way.
So, financial planning is not for wealthy people alone but is, in fact, a path to becoming wealthy.
What is Wealth Management?
Another term often heard in the finance sector is "Wealth Management". Finance Planning and Wealth Management are often confused to be the same.
Finance Planning is about creating a strategy and executing it to achieve your goals. As you execute the strategy, you will create wealth. Wealth management is about growth, preservation, and enjoyment of wealth. It may involve creating multiple long-term and short-term strategies to expand and preserve wealth.
A Wealth Manager has to take active decisions to identify opportunities to grow and preserve wealth. It involves managing a large category of asset classes or managing a set of assets for an individual.
How different are Financial Planning and Wealth Management?
Though they are often confused, they are very much different. Let us understand the differences between them under various factors.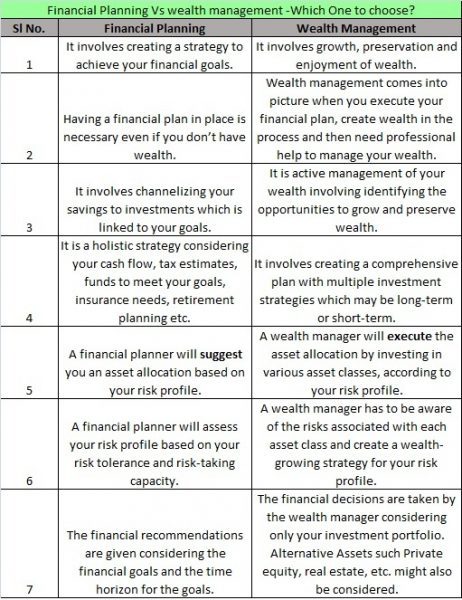 Final Words
Having a financial plan in place is the first step to create wealth. A holistic plan will help you identify your risks, fix your income leakages, set measurable goals, and create wealth in the process. Financial planning does not require you to have sufficient wealth.
As you execute the plan, you will be able to create an investible surplus, cover your risks through insurance and make investments suiting your risk profile.
On the other hand, wealth management comes into picture when you have created wealth and need professional help to grow, preserve and enjoy your wealth. It requires the active monitoring of the wealth manager to identify the right mix of investments for you.
Most people get into financial troubles and fail to create wealth because of wrong decisions and not having a financial plan in place. Even if you have accumulated sufficient wealth, a financial plan helps you to channelize your wealth in the right manner to achieve your financial goals, meet your wants and realize your dreams.
Author Profile:-
KishorKumar Balpalli – Kishor is the founder of mymoneysage.in an award-winning personal finance platform. He believes that financial literacy and discipline is the key to one's financial freedom. Mymoneysage.in helps you aggregate all your personal finance accounts like FD, Equity, Mutual Funds, PPF EPF, Credit Cards, Loans etc. It's one place where you can track, plan and invest seamlessly. Mymoneysage.in empowers you to invest in zero commission, zero fees direct plans of mutual funds thereby helping you generate a higher return on investments when compared to Regular Plans.
Note:- We are in no way associated with Mr.KishorKumar Balapalli and Mymoneysage. Also, we have not received any monetary benefits to publish this post. This post is shared purely for the sake of knowledge.