Think that you bought an insurance product where Sum Assured is Rs.100 Croe and yearly premium is Rs.1,16,90,000. Now incidentally this information was shared on social media such as Facebook by your adviser !!! What will happen to you or your financial confidentiality? This is what happened recently by one of LIC agent, who with a joy of his business success shared such information on social media.
Let us set aside what promoted the insured person to opt for Rs.100 Crore term insurance for such short span of 5 years. I hid the client name and Agent details but not the same was done by that agent on FB. But see what impact it will generate on client's confidentiality?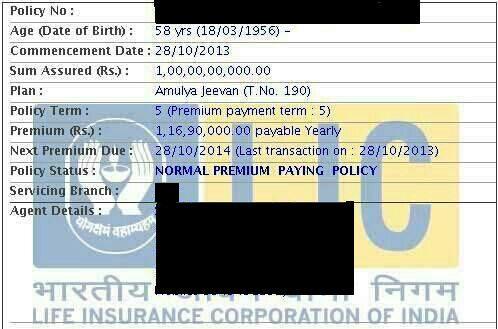 So how you can come to know that the data you are sharing kept confidential or not? To arrive at judgement, first check out with your adviser what type of regulation, he is bound to. Like for the Certified Financial Planners, we strictly need to follow the FPSB India's Code of Ethics. But the same may not be with other professionals. Hence it may danger your personal financial life.  To explain further what Certified Financial Planners need to follow in terms of confidentiality, see below lines of rules which all CFPs have to follow.
"CONFIDENTIALTY – Rules that relate to the Principle of Confidentiality
Rule 601
A CFPCM Certificant shall not reveal – or use for his or her own benefit – without the client's consent, any personally identifiable information relating to the client relationship or the affairs of the client, except and to the extent disclosure or use is reasonably necessary:
(a) To establish an advisory or brokerage account, to effect a transaction for the client, or as otherwise impliedly authorized in order to carry out the client engagement; or
(b) To comply with legal requirements or legal process; or
(c) To defend the CFPCM Certificant against charges of wrongdoing; or
(d) In connection with a civil dispute between the CFPCM Certificant and the client.
For purposes of this rule, the proscribed use of client information is improper whether or not it actually causes harm to the client.
Rule 602
A CFPCM Certificant shall maintain the same standards of confidentiality to employers as to clients.
Rule 603
A CFPCM Certificant doing business as a partner or principal of a financial services firm owes to the co-owners a responsibility to act in good faith. This includes, but is not limited to, adherence to reasonable expectations of confidentiality both while in business together and thereafter.
Rule 604
Unless compelled to by law, or as required to fulfill a legal obligation, any CFPCM Certificant who by reason of their membership in the FPSB India is exposed to, learns of or has access to information and knowledge concerning the FPSB India and/or CFPCM Certificants must keep confidential all such information and knowledge and is not entitled to communicate or divulge that information or knowledge or any part thereof.
Rule 605
A CFPCM Certificant must, when requested to do so by a client, give to the client or another person authorized by the client, any original document (not photocopies) related to the provision of financial planning advice for which the client has paid or will pay for. This does not include documents which have been prepared or received by the CFPCM Certificant in undertaking the advisory task, such as internal notes, memoranda, quotes or other working documents.
Rule 606
A CFPCM Certificant shall take prudent steps to protect the security of the client's information and property, including the security of stored information, whether physically or electronically, that is within the CFPCM Certificant's control."
Hence next time when you share any information be careful that how your adviser may use your data in the future and what it impacts on your life. It is more scary if the adviser or planner is not in a preview of any Indian regulators such as IRDA, SEBI or RBI. Because there are few advisers or planners who work on a fee and they are not under any regulatory bodies. So be careful while sharing your financial data.