In major big news for members of EPF, EPFO Trustees today decided to allow EPF Commutation of Pension. However, is it worth to opt?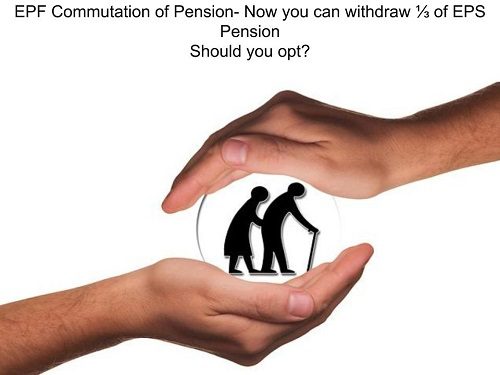 But before jumping into the news, please refer my earlier post to understand more about EPS.
For many employees, this may be a big relief. But do you feel it is necessary?
Let me explain to you the few features of EPS
Employees who are members of EPF will automatically become members of EPS.
Along with your employer contribution of 8.33% of your salary, Central Govt. also contributes 1.16% of employees' monthly salary. Here the meaning of salary means Basic+DA. The rulebook still sticks to the old salary limit of Rs.6, 500 limits for an employer and central government contribution. However, in my view after the new rules, the limit should be raised to Rs.15, 000.
You will not get any interest on your EPS contribution. 
For calculation purposes, if your service is more than or equal to 6 months, then it will be rounded to next year. If it is less than 6 months, then such fraction of service period is not considered for calculation. For example, suppose you worked for 21 yrs and 7 months. In this case, your service is considered as 22 years. However, if your service is 21 yrs and 2 months, then service will be considered as 21 yrs only.
Pensioner receives a pension for life long and upon his death will go to spouse and two children below 25 years of age
Employees are eligible for EPS only if they complete 10 Yrs of service or attain the age of 58 or 50 Yrs of age.
You will not be eligible to receive more than one pension from EPS.
EPF Commutation of Pension – You can commute 1/3 of Pension
Now, what is the meaning of EPF Commutation? Let us go deep into it and understand the real meaning of commutation. Let me briefly explain this.
Assume that you worked for more than 10 years or you attained the age of 58 years. Then as per the rule, you are eligible for EPF Pension.
After the calculation, assume the pension is fixed as Rs.10,000 per month. Now as of now, you are not allowed for commutation. Hence, without any other options, you have to end up with a monthly pension of Rs.12,000.
However, due to the new changes. you are now eligible for withdrawal. How much is withdrawal?
Let us consider your monthly pension is Rs.12,000 (fixed after calculation), then the commutation is allowed on 1/3 such pension of 15 years.
Hence, 1/3 of your monthly pension is Rs.4,000 (Rs.12,000/3).
Now convert the same into years=Rs.4,000*12=Rs.48,000
Now 15 years of this is Rs.48,000*15=Rs.7,20,000 is allowed for commutation. Such commutation is tax-free for you.
Once you opt for commutation, then your monthly pension will be reduced to Rs.8,000 a month rather than the initial Rs.12,000 a month.
But what will be the pension if you survive after 15 years? Once this 15 years end, then the monthly pension will be restored to Rs.12,000 per month.
EPF Commutation of Pension – Is it beneficial?
In my view, YES and NO. The reason for YES are as below.
# Any pension you receive during your retirement is taxable income. However, such commutation is tax-free.
# If you use this commutation properly for reinvesting then you can generate additional income.
The reason for NO are as below.
# You end up with reduced pension after commutation for the next 15 years. This may hamper your retirement life.
# If the commutation amount is not utilized properly, then it may be a disaster during your retirement life.
Hence, rather than rejoicing on this feature, take a cautious call.