Recently LIC launched one more pension plan called Jeevan Shanti. However, what is the difference between LIC's Jeevan Shanti Vs Jeevan Akshay VI? Because both are LIC's pension plans. But meant for the different purpose. Hence, let us understand the differences.
Before jumping into understanding these two plans, first understand the basics of pension or retirement plans.
What is the meaning of annuity?
In simple term, you can say it as a Pension, where you will get regular income up to the specified period or conditions. There are two types of annuity.
1) Immediate Annuity-In this case, you invest a lump sum in a product and your pension or annuity starts immediately. Let us say you have around Rs.1 Cr and if you buy immediate annuity plans, then the pension will start immediately from next month.
2) Deferred Annuity-In this case your annuity starts after a certain period. Let us say your current age is 30 years and you are planning to retire at the age of 60 years. If you buy a deferred annuity plan, then you will invest up to your retirement age i.e. up to 60 years of age. After 60 years of retirement, your pension will start.
I tried to explain the same with below illustration as below.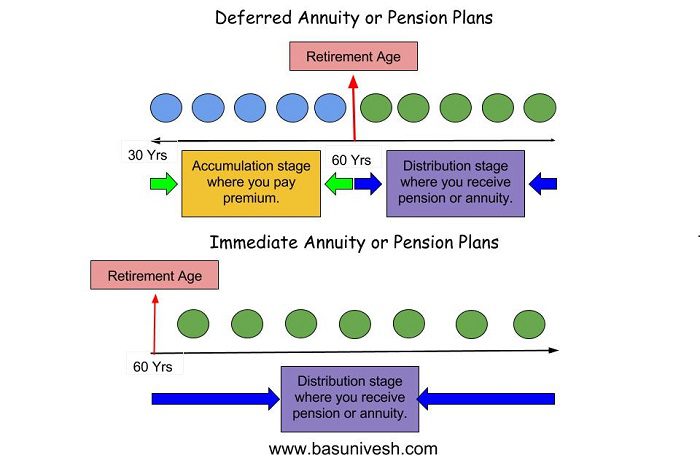 The difference between LIC's Jeevan Shanti Vs Jeevan Akshay VI
Now let us come to the main topic of this blog to understand the difference between LIC's Jeevan Shanti Vs Jeevan Akshay VI.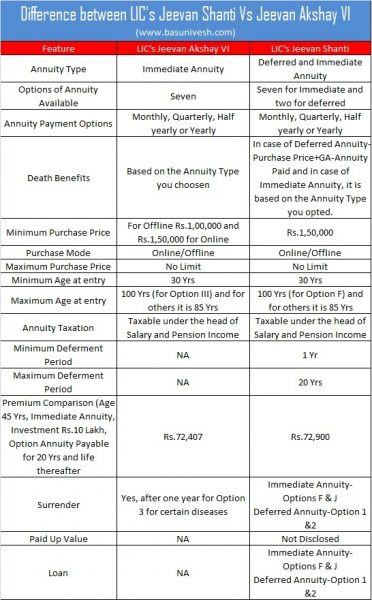 When you look at above comparison, you noticed that there are no such differences when it comes to features. LIC was in need of deferred single premium annuity plan. Hence, they launched it.
However, if you look at annuity rates, I felt Jeevan Shanti offers you better returns than Jeevan Akshay VI. One more big difference is the surrender option. You notice that in case of Jeevan Akshay VI, you can surrender it only if you opted the Option 3 and also suffering from certain diseases. However, no such health restrictions are not mentioned in case of Jeevan Shanti.
Also, under Jeevan Shanti, one can surrender it (If you opted for Options F and J) after the three months of the policy period. However, in the case of Jeevan Akshay VI, it is after one year.
Hence, considering more options, high annuity rate than Jeevan Akshay VI (I cross-checked only with one option) and easy liquidity option in terms of surrender, I feel Jeevan Shanti a better choice than Jeevan Akshay VI.
Please note that the above comparison is based on basic and main features of both the plans. However, for a better understanding of the products, refer below posts and then take your own decision.