Dhanteras 2019 is celebrated on 25th October 2019. How to buy Dhanteras 2019 – Buy 24 Carat Gold cheaper than the market price? No matter what we say, we are fond of gold and love to buy during this auspicious day.
Taking this as an opportunity, jewellery shops do huge business in the name of discounts or offers. However, I think many of you are unaware that the Government launched the Sovereign Gold Bond Scheme in 2015 (All about Sovereign Gold Bonds Scheme).
This scheme was launched by the Government with an intention to avoid physical gold buying by us. In a year, the Government of India will launch so many series of such bonds to invest at the time of the issue itself.
Considering the importance of Dhanteras 2019, the Government launched the Sovereign Gold Bond Scheme FY 2019-20 – Series 6 Review. This will be available for subscription from 21st October to 25th October 2019. There will be in total 10 such series to be offered during this year.
The current Series 6th issue price is Rs.3,835. The issue price of the Gold Bonds will be Rs 50 per gram less than the nominal value to those investors applying online and the payment against the application is made through digital mode. Therefore, if someone applying online and paying through digital mode, then you will get the gold at Rs.3,785.
Dhanteras 2019 – Buy 24 Carat Gold cheaper than market price!
This post is not for those who are looking to buy physical gold jewellary ornaments. But for those who are trying to buy gold on this Dhanteras 2019 auspicious day. Hence, I am not into the debate of whether to invest in Gold or not? How much % of your asset should be in Gold? How to accumulate the Gold for current usage or future usage?
The current Gold price in Bangalore (where I stay) is available at Rs.3,901 for 24 Carat Gold and Rs.3,595 for 22 Carat Gold (I am not validating these prices. Hence, better to check the price when you actually buying).
Considering the current issue price of Sovereign Gold Bond Scheme FY 2019-20 – Series 6  and the market price of Gold for 22 carat and 24 carat of gold, it is costly to buy at these prices from these two sources.
If you go to the NSE website, you find that the earlier versions of Sovereign Gold Bond Schemes are trading at much-discounted price of what the current issue price and the gold price in the market. Look at the below image.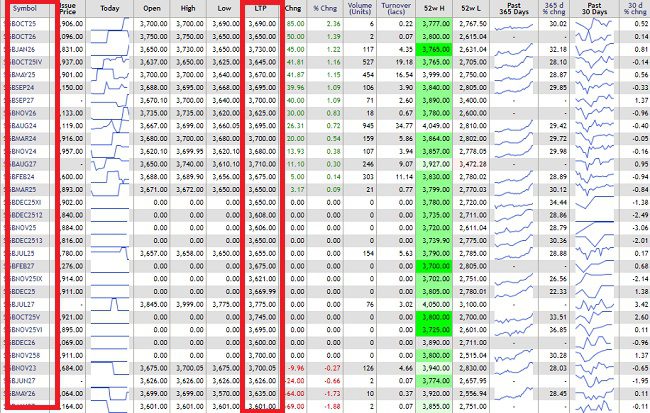 You noticed that the last traded price (23rd October 2019) is around Rs.3,600 to Rs.3,700. This is much much lower than the current issue price of Sovereign Gold Bond Scheme – Series 6th price. The only exception is the SGBJUL27 (which is currently trading at Rs.3,775).
Considering such a discounted price, why not one can buy Dhanteras 2019 – Buy 24 Carat Gold from secondary than buying it a physical gold or investing in Sovereign Gold Bond Scheme – Series 6?
Anyhow, you are planning to buy the gold during Dhanteras 2019 for auspicious purposes, then why not at the discounted price?
However, if someone is buying for jewelry purpose or wearing purpose, then this buying will not help you. Because you will not get the physical gold when you invest in Sovereign Gold Bond Schemes. But the advantage of buying Sovereign Gold Bond Scheme Vs physical gold is that-
# No headache of safe keeping.
# Along with Gold price appreciation, you will earn 2.5% interest on your invested amount.
# Issued by the Government of India. Hence, no risk at all.
#  It is best to invest in this bond than whoever planning to invest in an ETF. Because there are expenses and Demat holding costs to ETF, which is not in this bond.
Some disadvantages of investing in Sovereign Gold Bond Scheme-
# Before jumping into an investment, think whether a gold investment is really worth it. Because Gold will give you a return of debt products with volatility as much as that of equity.
# Do remember that this bond is backed of Government of India. But it does not mean that this will fetch you positive returns. If gold prices fall then you may end up getting a negative return. The only guarantee from Government is about the return of money, but the return on investment. Hence, the gold risk is always on your HEAD.