Central KYC Registry or CKYCR will now replace the existing multiple KYC submission process while opening savings bank accounts, buying life insurance or investing in  mutual fund products into one time centralized process.
The Government of India has authorized the Central Registry of Securitization and Asset Reconstruction and Security interest of India (CERSAI) to manage this Central KYC Registry process. From 1st August, 2016 this new process will be applicable to all individuals.
Hence, it is important for all individuals to know the contents of Central KYC Registry or CKYCR form. Also, you must aware of how to fill the form.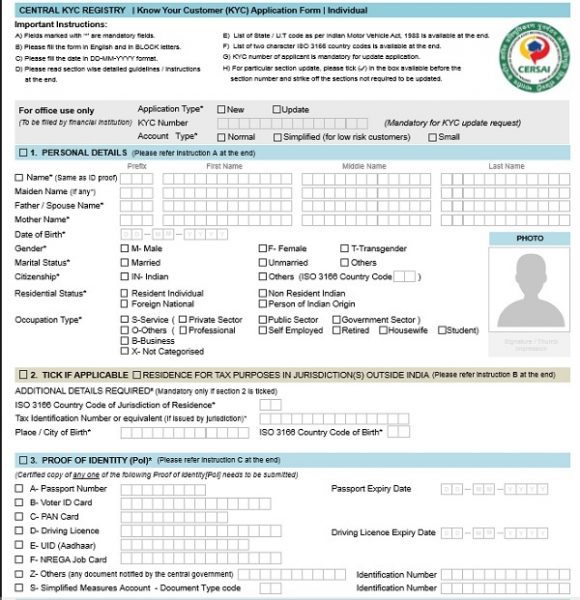 The beauty of this new form is that in the single form itself you will find the new KYC registration and modification feature. Also, the FATCA declaration is also available in same KYC form. As of now, you have to declare when you are investing. However, it is now made it mandatory of FATCA declaration while completing the KYC Process itself.
Features of Central KYC Registry (CKYCR) Form
A single KYC for all your financial transactions.
In existing format PAN is the sole identifier for an investor. However, in new Central KYC Registry system, the list goes beyond Aadhaar and PAN.
A single form to create new KYC or modify the existing KYC.
In existing KYC, mother's name and proof of permanent address are mandatory (if your address for correspondence is not the same as permanent address).
Three types of accounts are specified. One is Normal, second is Simplified or for low-risk customers and third is Small investors. You have to select which is applicable to you.
If your aggregate of all credits in a financial year does not exceed rupees one lakh, the aggregate of all withdrawals and transfers in a month does not exceed rupees ten thousand or the balance at any point of time does not exceed rupees fifty thousand, then you will be considered as SMALL account type of investor.
The simplified or low-risk customers means customers who are not able to submit anyone among 6 documents listed. They are Passport, driving license, PAN card, Voter ID, job card issued by NREGA or Aadhaar Card.
If you will not fall in above two categories of investors like SMALL or SIMPLIFIED (Low-Risk Customers), then you have to mention it as NORMAL customers.
FATCA declaration is also included in KYC form itself.
You can add related persons like a guardian of minor, assignee or authorized representative KYC details in the same single form.
If you have more than one Correspondance or local address, then you can update them in Annexure A1.
If you have more than one related person, then you can update their details in Annexure B1.
How to fill the Central KYC Registry (CKYCR) form?
Even though it looks complicated to fill the newly launched Central KYC Registry (CKYCR) form, but in reality, it is too simple. To make it more comfortable for you, I created a video tutor. Please watch this below video before jumping into the filling of Central KYC Registry (CKYCR) form.
I hope you understood the whole process of how to fill the Central KYC Registry or CKYCR form by now. If you still have doubts, then you can raise your doubts by commenting below.
This is the initial information available about Central KYC Registry or CKYCR. I think there may be some changes to it at later stage. I will update as and when I get information about such updates.
Download the Central KYC Registry or CKYCR Form