Which is the Best Index Funds in India 2021? This may be the question in your mind. Hence, instead of sharing the best Index Funds in India 2021 list, I am sharing here the complete list of Index Funds in India 2021.
In my list of Top 10 Best SIP Mutual Funds to invest in India in 2021, I have already mentioned my intentions of why I am adopting the Index Funds. Hence, for those who may wish to follow their choice of funds, this list of Index Funds in India 2021 may be helpful.
How to choose the best Index Funds in India 2021?
As per my knowledge, while you decided to invest in Index Funds, then the next step is to select the best suitable for you among the available list of Index Funds. Three important things matters here while choosing and they are as below.
# Expense Ratio
Choose the Fund which is having a less expense ratio. Because at the end it is the cost which is also the major force we are turning towards Index Funds rather than active Funds.
# Tracking Error
Tracking error means the difference between the fund returns to it's benchmark (Index). Lower the tracking error means the fund manager managed well to generate the same return of the Index. Hence, choose the one which has a lower tracking error.
# AUM of the Fund
Usually, higher the AUM means better for the fund manager to manage the sudden inflow and outflow. Hence, choose the one which is currently having the highest AUM.
These three are the major pointers while you are selecting the Index Funds.
List of Index Funds in India 2021
Do remember that, while preparing this list, I am not concentrating on the returns. Instead, to make your life easier, I am concentrating on the Expense Ratio, Tracking Error, and the AUM.
I have updated the data as of January 2021 factsheets. Also, wherever the tracking error is not provided in the factsheets, I kept that data blank.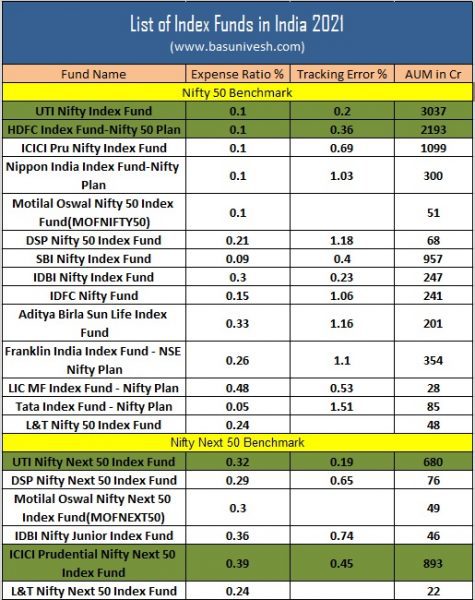 In the above list, I have listed Nifty 50 and Nifty Next 50 Index Funds. In the below list, I am sharing the other Index Funds available in India.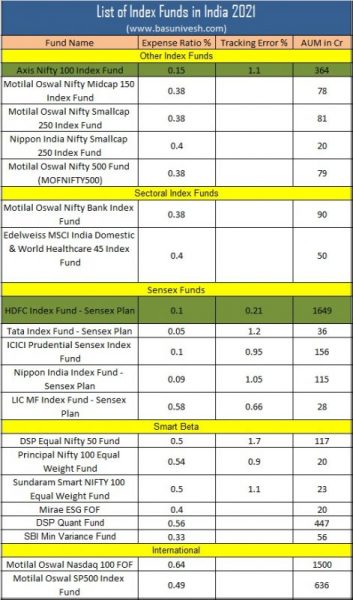 You noticed that few AMCs not publishing the tracking error data. When we are choosing the Index Funds, this is the main data we have to look for. However, I am not sure why they are not publishing such data or I am unable to find the data. But I am sure that they are not publishing if we go by their monthly factsheets. The same AMCs are publishing the tracking error for ETFs but not for Index Funds. I think SEBI has to bring in this clarity for the investors. Let us hope for the same.
Refer to our latest posts:-