There are 24 Life Insurance companies in India. Among those 24 companies, which one we can choose to buy the term life insurance? Let me share with you my Top 5 Best Term Insurance Plans in India 2021.
Majority of us who are looking for term life insurance always try to concentrate on the claim settlement ratio as a first indicator. However, what are the other things we have to consider while buying term life insurance?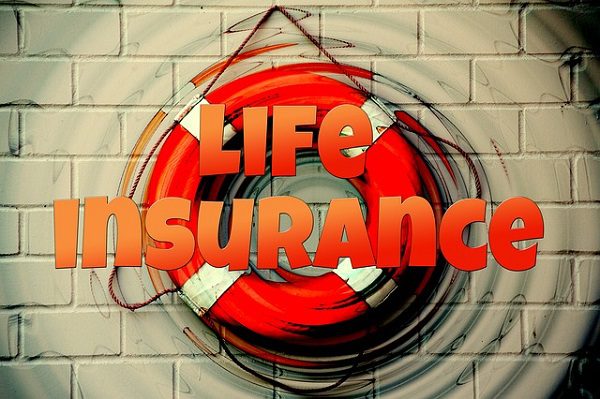 What is Term Life Insurance?
Term Insurance is the type of Life Insurance. If death occurs of the policyholder during the policy period, then his/her nominee will receive the Sum Assured selected. If the policyholder survives till the end of the policy period, then he/she will not receive any maturity amount.
This is the reason, these policies cost you very less and cover a large amount of life risk. This is the PURE LIFE INSURANCE. Hence, anyone who has financial dependents must buy this product immediately.
However, nowadays there are so many variants in Term Life Insurance. For example, the return of premium, Term Life Insurance up to 100 years of age, a variety of riders, and a variety of claim payable options.
But instead of complicating your dependents, buy simple plain term life insurance. Why you complicate your dependents when you are buying this is that this product's benefit will come into the picture when you are not here.
What are the advantages of online Term Insurance Plans?
Nowadays all Life Insurance companies offer you online term insurance plans. The advantages of online term plans are as below.
# It is convenient to buy as with the click of a button you can buy it.
# As there will not be any middlemen involved, the price is cheap than offline term insurance plans.
# You fill the proposal form on your own. Hence, an error of margin is LESS.
# Undue influence by agents is not there.
# Those who claim that online buying is RISKY as there are no middlemen involved are those who are representative of some companies and they may get a commission if you buy through them. Hence, they crease such stories.
Top 5 Best Term Insurance Plans in India 2021
Now let us discuss on what basis we can choose our Top 5 Best Term Insurance Plans in India 2021. Few pointers I will suggest which may help you in selecting your term life insurance.
# Claim Settlement Ratio
DON"T RELY ON THIS DATA. The reason is that it is raw data of all life insurance products a company is selling. It will not classify the death claim settlement ratio of term life insurance. This is the biggest reason why you must stay away from concentrating too much on this data.
However, if you are willing to know the current data, then you can refer to my latest post "IRDA Life Insurance Claim Settlement Ratio 2021". Below are few latest reports from IRDA Annual Report.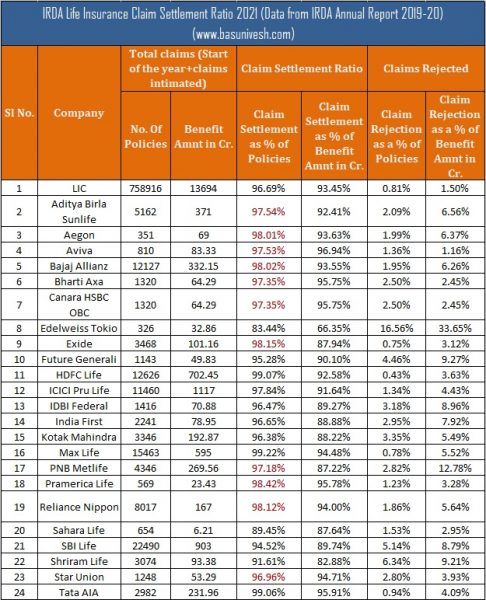 As I pointed, few Life Insurance companies claim settlement ratio may be attractive. However, it is not an indication that they are settling your claims. Hence, don't be get fooled by the claim settlement ratio. As a pointer to validate my saying, refer to the below image.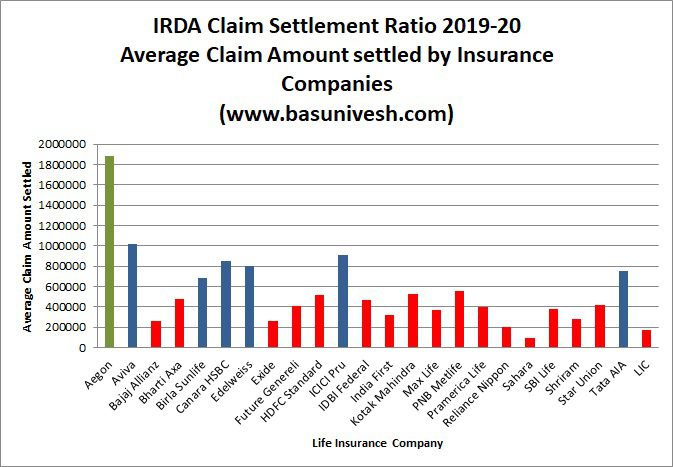 Notice the average claim settlement of LIC. It is the least compared to all others. This data itself shows that their claim settlement is mainly traditional plans.
However, if you are a fan of the claim settlement ratio, then it is left with you to decide which one to consider.
# Premium cost of Term Life Insurance plans
Even though whatever the features we look for, the premium is what we have to take into consideration while buying our term life insurance. I am not saying that the one which is offering at cheap is the best and at the same time the one which is offering at costly is worst. I mean to say that you have to balance between feature and price.
Hence, consider this point while buying your term life insurance. However, never choose the option like RETURN of PREMIUM. It is a waste feature that these insurers added you to lure while buying. Stay away from this return of premium.
# Features of Term Life Insurance
Term Life Insurance is the simplest product a life insurance company can offer you. However, if you look at the current products, I am sure that you will run away or get confused about which one to buy. Hence, rather than complicating your life, follow the below steps.
The ideal coverage should be around 15-20 times of your yearly income. Hence, buy accordingly. Term of the life insurance should be up to your working age. During your retirement age, Life Insurance is a WASTE product. Hence, don't go for a term of up to 80 years or 100 years.
Never go for riders like accidental or critical illness. The main reason is that life insurance is required only for a limited period. However, accidental or critical illness insurance is required for you throughout your life. Also, if you buy these riders as a standalone product, then they may offer better features than these riders.
Stick to the yearly payment option rather than choosing monthly or limited payment. Few choose premium payment as monthly. However, these term life insurance products are high sum assured, a single default of premium may be converted to a lapsed of policy. To reinstate the same, life insurance companies may ask you to undergo a medical examination. Hence, to avoid such hassle, better to opt for a yearly premium. To accumulate the same, RD of a year is enough.
These are the main pointers when you look for plan features. Few more are listed at the end of this post which may help you in shortlisting a product.
# Age of the company
As Life Insurance is a long-term contract between you and the company, look for stable companies than the one where the management or takeover happening frequently or the newly entrant.
Go for stable and old companies. However, even if a new company shut its doors, it can't run away from the responsibility. For a better understanding of this concept, read my post "What if your Insurance Company goes bankrupt?".
List of Term Life Insruance products available in India
Now, let me share with you Term Life Insurance products available among all 24 companies.
LIC Jeevan Amar (Offline Plan)
LIC Tech Term (Online Plan)
HDFC Click2Protect Life
ICICI Pru iProtect Smart
Max Life Smart Term Plan
Max Life Term Plan with return of premium
Max Life Online Term Plan Plus
Kotak e-Term Plan
ABSLI Life Shield Plan
ABSLI Digishield Plan
Tata AIA Maha Raksha Supreme
Tata AIA Sampporna Raksha
Tata AIA Sampporna Raksha+
SBI Life eShield
SBI Life Poorna Suraksha
SBI Life Smart Shield
Exide Life Elite Term Life Insurance
Exide Life Smart Term Pro
Exide Life Smart Term Edge
Exide Life Term with Return of Premium Plan
Bajaj Allianz Life Smart Protect Goal
Bajaj Allianz Life eTouch Online Term
Bajaj Allianz iSecure
PNB Metlife Mera Term Plan Plus
PNB Metlife Mera Term Plan
PNB Metlife Aajeevan Suraksha Plan
Reliance Nippon Life Protection Plus
Reliance Nippon Life Digi-Term Insurance Plan
Aviva Lifeshield Advantage
Aviva Jana Suraksha
Shriram Life Smart Protection Plan
Shriram Life Smart Protection Plan SP
Shriram Life My Spouse Term Plan
Shriram Life Cash Back Term
Shriram Life Family Protection
Bharti Axa Flexi Term Plan
Bharti Axa Premium Protect Plan
Bharti Axa Smart Jeevan
Bharti Axa Income Protection Plan
Future Generali Flexi Online Term Plan
Future Generali Express Term Life Plan
Ageas Federal Life Insurance MyLife Protection Plan
Ageas Federal Life Insurance Income Protection Plan
Ageas Federal Life Insurance Termsurance Life Protection Insurance Plan
Canara HSBC Oriental Bank of Commerce Life Insurance iSelect Star Term Plan
Aegon Life iTerm
Aegon Life iTerm Plus
Pramerica Life Trushield
Pramerica Life U-Protect
Star Union Dai-Ichi Life Insurance Life Abhay
IndiaFirst Life Insurance Guaranteed Protection Plan
IndiaFirst Life Insurance Life Plan
IndiaFirst Life Insurance Online Term Plan
Edelweiss Tokio Life Insurance Zindagi Plus
You get confused right?? Yes, me too 🙂 This is a classic example know how the financial industry complicates your life. Term Life Insurance is a simple product. But in the mad rush to show that they are the BEST in the market, these life insurance companies are adding one by one feature to the product and made our LIFE COMPLICATED.
Then which one to buy? The answer is IRDAs recent initiative of standard Term Life Insurance called "SARAL JEEVAN BIMA YOJANA".
It is a standard life insurance product with a standard feature. You can look into this product. However, the default maximum cover is Rs.25 Lakh (however insurers can offer you higher coverage also). Hence, if your opted life insurance company is offering Saral Jeevan Bima Yojana at higher coverage, then the best option is to choose it. Mainly because it is simple to understand and standard basic features are available with this product. Sharing with you the features of the same.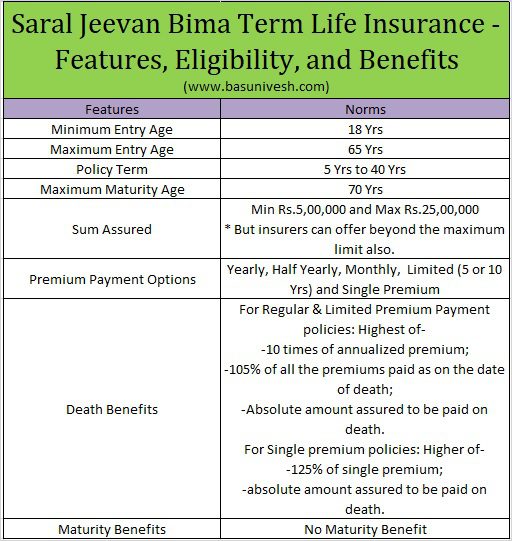 Let me now share my choice of Top 5 Best Term Insurance Plans in India 2021.
LICs Tech Term
HDFC Click2Protect Life
ICICI Pru iProtect Smart
Max Life Online Term Plan Plus
Aegon Life iTerm
Few points to consider while buying term insurance
# Never rely on Claim Settlement Ratio
Claim Settlement Ratio is raw data. This data will not give you enough picture of what type of products the insurance companies settled. Hence, relying too much on this single data and selecting a product is not a good idea.
# Quantum of Life Cover
Ideally one must have at least 15-20 times of your yearly income. This is the basic calculation.
# Fill the data properly
Sharing data especially materialistic information must be accurate. If you are unable to understand anything, then immediately contact Life Insurer for help. Understand the questions and fill them only when you know what you are filling.
# Never allow someone to take over your decision
Never budge on the decision which is against your wish. If you are fully comfortable, then only go ahead and buy.
# Term of the policy
Ideally, it should be up to your retirement age. Because you retire when you are financially free. Hence, Life Insurance is not required during your retirement age.
# Splitting of Term Insurance
There are few who are apprehensive of relying on a single insurer. Hence, they try to split among few. But in reality, there is no logic in splitting. What is the guarantee that all insurers will accept or reject the claim?
# Stay away from riders
Never combine Life Insurance with General Insurance requirements. You will get better-featured covers from general insurers regarding accidental and critical illness covers. Hence, simply avoid riders.
# Never heed the aggregators choice
Nowadays there are so many online aggregators. You may not know that they act exactly like insurance agents. Hence, never rely on their claim. Do your own research. If you are satisfied, then only go ahead and buy. Refer to my post about the same "Beware of Insurance Comparison portals in India".
# Know about Sec.45 of Insurance Act
After the recent clarification about Sec.45 of the Insurance Act, the customer became king. It states "No policy of life insurance shall be called in question on any ground whatsoever after the expiry of three years from the date of the policy, i.e. from the date of issuance of the policy or the date of commencement of risk or the date of revival of the policy or the date of the rider to the policy, whichever is later."
Refer the complete post at "Term Insurance-Claim Settlement Ratio no more a big criteria".
# Review your life insurance cover
Buying Life Insurance of Rs.1 Cr or Rs.3 Cr is not a one-time affair. You must review your life insurance requirement at least once in 5 years. If required, then you must increase the sum assured.
# Be cautious with premium payment
In case of term insurance, you have to be very cautious when it comes to the premium payment. It is always better to opt for yearly premium payment and also if possible make it automated by the way of ECS. If policy lapses due to your negligence, then you have to undergo medical tests and all kinds of stuff once again. If there are any health issues, then the insurer may reject to renew the policy.
# Never go for Telemedical Examination
Recently one of my blog readers pointed that few Life Insurance companies insisting just Telemedical Examination by questioning about your health details on the phone (Refer-Can I buy Term Life Insurance with Telemedical Verification?).
It may be the easiest process for you and for life insurance companies. However, I feel suspicious of such kind of medical examination. Because in future insurance companies may find 100000 reasons to reject the claim on health ground.
Instead, I suggest you to go for a medical examination. This will really clear the dust or doubt in your mind about future claim settlement.
Final Note:-The list of "Top 5 Best Term Insurance Plans in India 2021" is my personal choice and comfort with insurance companies and by verifying features. However, it does not mean that my selection will be the UNIVERSAL selection.
Hence, if you have a different opinion from my selection, then it does not mean you are buying the wrong product. My only concern here is not to shortlist "Top 5 Best Term Insurance Plans in India 2021", but to give the gyaan which you must take into consideration before you shortlist your term life insurance.
Note:- From 16th April 2021, LIC is offering a standard term life insurance Saral Jeevan Bima (Plan No.859). Refer the details at "LIC Saral Jeevan Bima (Plan No.859) – Term Life Insurance".
Recent posts:-