We all look for how the leaders of our country invest right? As usual, this year also, PM Narendra Modi declared his assets. Let see PM Narendra Modi Assets declaration 2020 details.
As per this Mint report, PM Narendra Modi's assets were Rs.2.85 Crore. Let me break up the whole PM Narendra Modi Assets Declaration 2020 as below.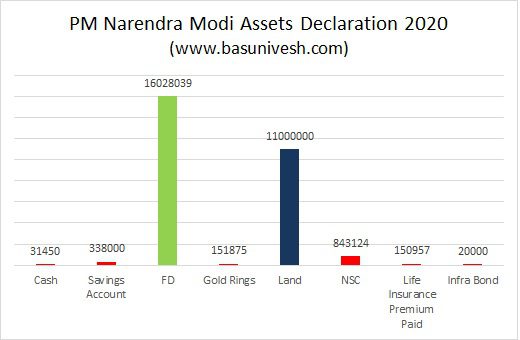 As per the Mint Report, his networth is Rs.2,85,00,000. It was Rs.2,49,00,000 in 2019. This increase in his net worth is mainly because of increase in his bank balance and FDs.
PM Modi had Rs.31,450 in cash at June-end. PM's savings account balance was Rs.3.38 lakh on June 30 against Rs.4,143 on March 31, 2019. His FD in State Bank of India's Gandhinagar branch increased to Rs.1,60,28,039 as of June 30, 2020 from Rs.1,27,81,574 in the last fiscal year.
PM has four gold rings weighing approximately 45 grams worth Rs.1,51,875. PM has not invested in equities. PM has a plot and house in Gandhinagar worth Rs.1.1 crore. He is a part owner of this along with his family. This immovable property is held by PM along with three other joint owners.
As of now, he is not owning any car or automobiles. His major tax saving instruments are NSC and Life Insurance. He is not investing in any mutual funds or stocks. He is holding NSC of Rs.8,43,124 and he paid the premium of Rs.1,50,957. It is not clear what type of Life Insurance product she is holding.
The L&T Infrastructure bond PM Modi purchased in January 2012 for ?20,000 has not yet reached maturity.
By sharing this post, I am not entering into any political ways. Instead, as a citizen of this country, I felt it interesting to share how our PM invest and where he is holding his assets. Hence, please don't convert this post into a political one by commenting on political-related comments. This is purely for information purposes considering Narendra Modi as our respectable Prime Minister of India.
Read our latest post:-