Nifty 50 TRI Vs BSE Sensex TRI, which is the best Index to invest in? In my earlier recommendation of Top 10 Best SIP Mutual Funds to invest in India in 2022, I have recommended Nifty 50 Index Fund and also a Sensex Index Fund. Hence, few have asked the question of which one is best among these two.
Hence, thought to dig for data and try to understand if there is any difference. The question arises mainly because of the number of stocks both indices hold. Nifty 50 is holding 50 stocks and BSE Sensex is holding 30 stocks. Hence, it is natural to ask the question.
Nifty 50 TRI Vs BSE Sensex TRI – Which is the best Index?
Sensex is the oldest stock index of India. It has the top 30 stocks by market capitalization trading in the BSE representing 40% of the total market cap at BSE. The Nifty has the top 50 stocks traded at the NSE. Both indices are weighted by a float-adjusted market capitalization method.
However, the problem to find the data of TRI took a lot of time for me. I was easily able to get the NIFTY TRI data. But struggled a lot to find the BSE Sensex TRI data (even though it is much older than Nifty).
Finally, I was successful in getting the 10 years of BSE Sensex TRI data. Hence, this post is an experimentation based on the last 10 years' data of NIFTY 50 TRI and BSE Sensex TRI.
Both indices have certain concentrated risks towards a particular sector or stocks as they both follow the free-float market capitalization method.
If we look at the last 10 years' movement of both indices, they are both moving inline. Assume that you invested Rs.100 in each of these indices, then the movement of that money looks like below.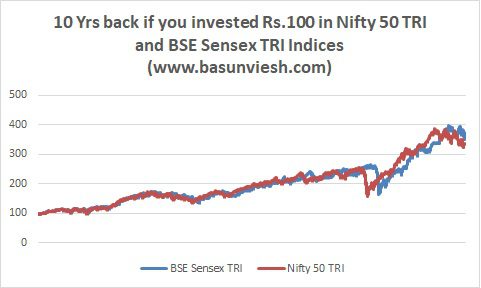 You noticed that both are moving inline and volatility is also almost the same. However, let us try to understand the differences based on 1 Yr, 3 Yrs and 5 Yrs Rolling Return concept.
# Nifty 50 TRI Vs BSE Sensex TRI – 1 Yr Rolling Return
# Nifty 50 TRI Vs BSE Sensex TRI – 3 Yrs Rolling Return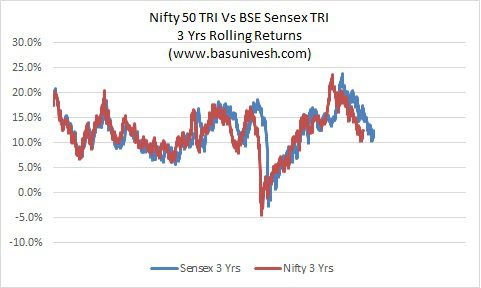 # Nifty 50 TRI Vs BSE Sensex TRI – 5 Yrs Rolling Returns
Notice from all the above charts that the returns are inline. Please do note that this my effort to showcase and prove that both Nifty and Sensex returns are inline. However, there may be certain data errors as I have limited resources available. But I tried to do my best and prove that as of now, both are generating similar returns.
However, if you feel BSE Sensex is more concentrated, then you can use Nifty 50. If you are a long-term investor, then the return difference is marginal, and as usual past data is not an indication of future performance. Hence, in general, we can judge that you can choose either of the indices.