What are the new online EPF advance rules 2020? Due to Coronavirus outbreak, EPFO offering the advance of 3 months wages or 75% of EPF balance. Let us see the procedure and who are eligible for this withdrawal.
New online EPF Advance Rules 2020 -Features
All the employees who are contributing to EPF are eligible to avail this advance.
It is NON-REFUNDABLE ADVANCE.
As Coronavirus is declared as Pandemic by the Appropriate Government for the entire country, all the EPF contributors are eligible for this withdrawal.
You no need to submit any documents or certificates for this advance withdrawal.
You can get non-refundable withdrawal to the extent of the Basic+DA for three months or up to 75% of the amount standing to your credit in the EPF account, whichever is less. Since withdrawal is non-refundable, there is no requirement to refund the amount.
Suppose your Basic+DA per month is Rs.15,000 and your EPF balance is 40,000, then you will get 75% of Rs.40,000 i.e Rs.30,000. Because your three months Basic+DA is more than Rs.40,000 (Rs.45,000). The condition of whichever is LESS applies here.
New online EPF Advance Rules 2020 – How to take advance of 3 months wages or 75% of EPF?
Now let us see how to avail this advance online using UAN portal.
Step 1-Visit the EPFO UAN Member Portal. Login to your UAN portal with your User Name and Password.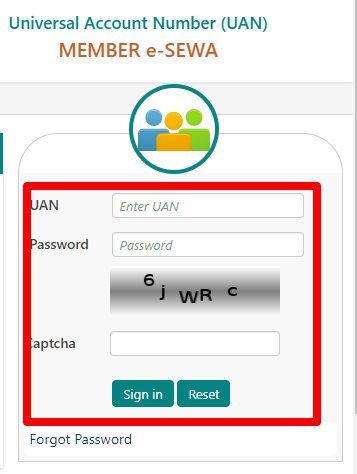 Step 2-Under the "Online Services", select the dropdown of Claim (FORM-31,19,10C&10D).

Step 3:-Here, you have to enter your Bank Account's last four digits and click on the tab VERIFY. Then click on "Proceed for Online Claim".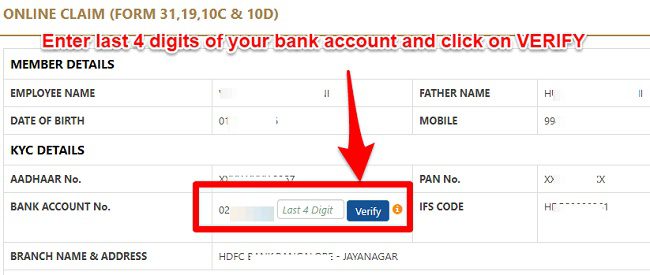 Step 4-Select drop down of "I want to apply for " and select 'PF Advance (Form 31)'.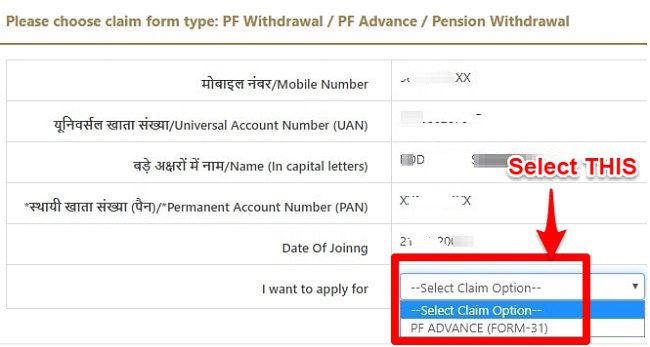 Step 5-You will find many options here. However, select purpose as "Outbreak of pandemic (COVID-19)" from the drop down.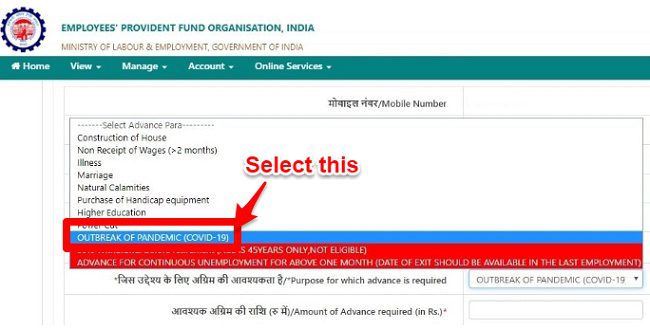 Step 6- Enter the amount required and Upload a scanned copy of the cheque/Passbook and enter your address. Then click on "Get Aadhaar OTP". Enter the OTP received on Aadhaar linked mobile. That's it. Your claim is submitted.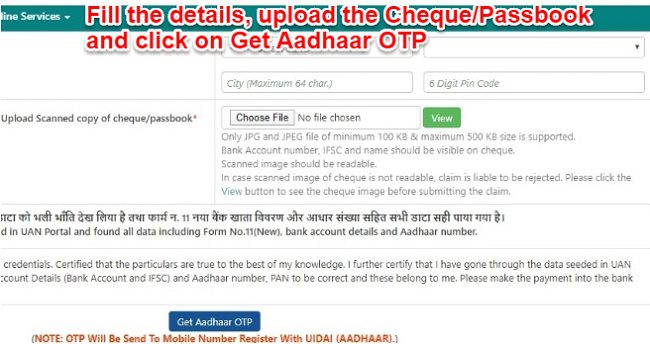 Let me know if you have doubts in availing this EPF Advance.
Conclusion:- Is it wise to withdraw this advance? Your EPF is meant for your retirement goal. It is a wonderful debt product of your retirement portfolio. Hence, even though the Government is offering by considering the difficulty many are facing, I strongly suggest you not to touch your EPF.
Only if all other options of managing your money fail, then as a last option touch EPF. But never disturb this wonderful long term tax free yearly compounding product just for the sake of few months of difficulty.