Finally, the budget is out and let us now discuss on what is Mutual Fund Taxation and what are the tax rates for FY 2016-17 of AY 2017-18.
First let us understand of what are the factors that determine the Mutual Fund Taxation. The three major part of this are as below.
Resident or Non-Resident (NRI)-Your tax will be based on your residential status. If you are resident then the taxation rules will be different and if NRI then it differs. Hence, first you have to make sure of what is your residential status.
Equity Funds or Non-Equity Funds-Any fund which invests 65% or more in equity is called as Equity Fund. For example large cap funds, multi-cap funds, small and mid-cap funds or equity-oriented balanced funds (where the equity exposure is 65% or more) are all called equity oriented funds. If the equity portion is less than that, then they are all treated as debt funds or non-equity funds. For example liquid funds, ultra-short term funds, short-term funds, income funds, gilt funds, debt-oriented balanced funds, gold funds, fund of funds or money market funds.
Holding periods of Investment– Holding period for Equity and Debt Funds will be different for taxation purpose. For equity funds holding period more than a year is called long term. If holding period is less than a year then such equity mutual funds holding period is considered as short term. Whereas in case of debt funds, holding period more than 3 years is considered as long term. If holding period of debt funds is less than 3 years, then it is considered as short-term and taxed.
I tried to explain the same in below image.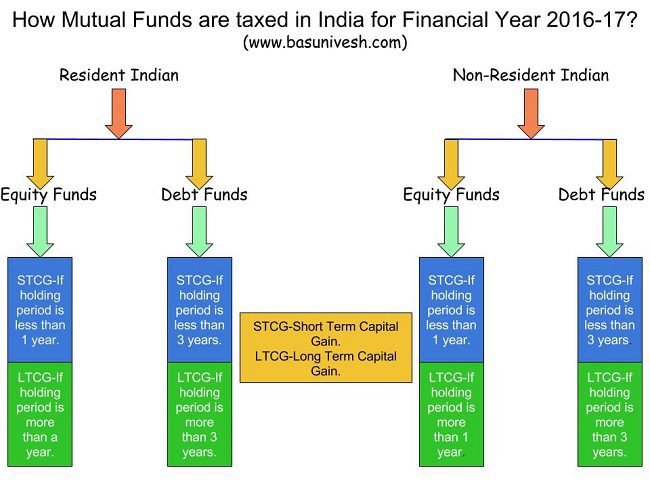 Now, let us move forward and see how STCG (Short Term Capital Gain) and LTCG (Long Term Capital Gain) are taxed in India for Mutual Fund for FY 2017-17.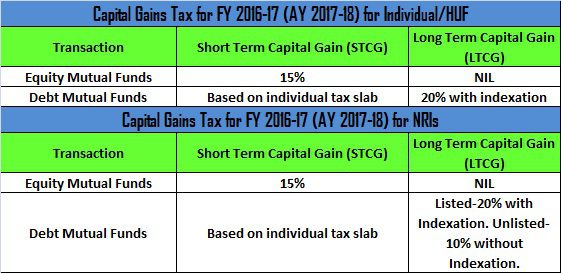 There will be TDS applicable only to NRIs. Below are the TDS rate for NRIs for FY 2016-17.

Along with regular STCG and LTCG, one has to pay STT (Security Transaction Tax). This will be as per below for FY 2016-17.

The changes to this is marked in red. Rest of STT are same as they are for previous year. This change was done in Budget 2016.
Hope above information, is enough to understand how the Mutual Fund Taxation works in India for FY 2016-17.