Recently Motilal Oswal launched the digital gold accumulation plan called Motilal Oswal Me-Gold Plan. Is it worth to buy through this platform? Let us review the same.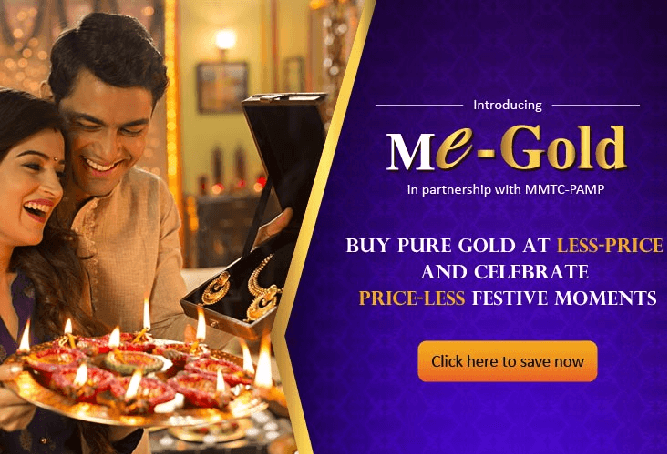 Gold still constitute the major asset for Indians. Because of it's need in marriages and our strong belief that Gold is the safest investment. Hence, we always fond of buying golds whether it may be due to family functions or auspicious days like Diwali.
Features of Motilal Oswal Me-Gold Digital Gold Plan
# Purity
It is claimed that purity is of 999.9. Hence, you no need to worry about the quality spect. This is is the purest form of Gold used for trading purposes across the world.
# Safety
Your Gold is vaulted in a 100% insured facility by MMTC PAMP, for free. This is fully insured for all eventualities.
# Minimum Buying cost
You can invest as low as Rs.1,000 or 0.5 Grams.
# No Making Charges
You purchase worth of your money and there are no such making charges involved like physical gold. However, if you request for delivery of physical gold, then you have to bear the cost of additional manufacturing and delivery charges and applicable taxes on the same based on the product item.
# You can sell it online
If you don't want the physical delivery, then you can sell it back without any charges.
# Gold Hallmark
This is the 24K Gold. Hence, the hallmark is not necessary. Hallmarking is done for only Gold items of 14, 18 and 22K. However, across the world, the standard for the highest quality gold is set by an organization called the LBMA.
LBMA stands for London Bullion Market Association, which is an International trade association representing the market for gold and silver Bullion with a global client base. LBMA's main role is setting and maintaining global standards for gold and silver, universally recognized as the de-facto standard of quality assured and assayed bullion. For more details, please visit:http://www.lbma.org.uk
# KYC Mandatory
KYC is mandatory for buying the gold through this platform. Hence, you have to submit the valid KYC documents.
# Gold Pricing
The Gold rate in Indian rupees per gram of 9999 fine Gold, as posted from time to time, inclusive of duty, exclusive of taxes, product manufacturing/making charges, delivery charges etc.
This live price updated frequently. The live price, at which you choose to buy Gold, will be valid for 6 minutes from the time of you clicking on the option to buy. In case you fail to complete the transaction by making the payment, you will be redirected to the new live price, at which point you can restart the transaction to make a fresh offer to buy.
For further understanding refer Motilal Oswal page.
Motilal Oswal Me-Gold Digital Gold Plan – Should you buy?
Going through the product features, I found many negatives than few positives. Let me share with you all about the same.
# Storage Period
The biggest drawback of this product is the storage period. This storage period is 5 years from the purchase date. Hence, if you are investing to accumulate the gold for your long-term usage, then this product is not for you. Instead, better to choose Gold ETF.
# Inactive Account Clause
If you not do any buy or sell transactions for 18 months, then such accounts are considered as inactive accounts. In such situation, Motilal Oswal will send you a notification to make a transaction on your registered mobile number and email.
The action on such inactive accounts is explained by Motilal Oswal as "We will reserve the right to close down the account if your account has been inactive. In such cases, the gold held in your account will be liquidated at the "sale price" prevailing on the day of liquidation after deducting applicable charges and taxes, and the complete amount from these proceedings will be kept separately in a dedicated GAP account maintained by MMTC-PAMP. You can claim the amount by reaching out to MMTC-PAMP and providing relevant ID proofs and account details for settlement."
This I think one more biggest disadvantage. Because irrespective of your need, you will be forced either to buy or sell to make the account active.
# Need
If your requirement is a current gold requirement, then this plan is not meant for you. Instead, better you purchase gold ornaments directly.
However, your plan is to accumulate the gold for future (less than 5 years), then you can opt for this product.
# Motilal Oswal Account Required
Even though it is not clearly mentioned, but I assume that you must have Motilal Oswal account to be eligible to invest. Hence, the cost of managing such accounts also you have to bear.
# Making Charges
If you sell your gold holdings online, then you no need to bear any cost. However, if you opt for physical gold delivery, then you have to bear the additional manufacturing and delivery charges and applicable taxes on the same.
# Death of Account Holder
It is clearly mentioned in features that in case of the account holder's death, it becomes the customer's legal heir's responsibility to inform Motilal Oswal/ MMTC-PAMP. You can opt for nomination also. Hence, sharing such account information with your nominee or legal heirs is a must.
Hence, considering all above points, I suggest you not to go for this product. Finally, I end this post by one suggestion "Gold is an asset class which will give you the returns of debt products (like Bank FDs) but volatile like equity market". Now rest is left to you to decide.
Refer my earlier posts related to gold-