There are many emergencies and in such a situation you may get a situation even to avail loan against mutual funds. How to avail loan against mutual funds instantly? This is now possible and let us look at this possibility in detail.
Recently HDFC Bank started a facility to avail loan against mutual funds instantly through it's internet banking facility. For this facility, HDFC Bank tied up with CAMS (one among four R&T Agents for Mutual Fund Companies in India).
CAMS manages the accounts for most of the mutual funds in the country and has a 65% market share. Because currently, CAMS serving the below mentioned Mutual Fund Companies as their R&T Agents.
HDFC Mutual Fund
DSPBR Mutual Fund
Birla Sunlife Mutual Fund
HSBC Mutual Fund
ICICI Prudential Mutual Fund
IDFC Mutual Fund
IIFL Mutual Fund
Kotak Mutual Fund
L&T Mutual Fund
Mahindra Mutual Fund
PPFAS Mutual Fund
SBI Mutual Fund
Shriram Mutual Fund
Tata Mutual Fund
Union Mutual Fund
However, currently, HDFC Bank offering this loan against Mutual Funds with 10 Mutual Fund Companies. In coming days, in my view, they will tie up with other R&T Agents and also other Mutual Funds.
Why you need loan against Mutual Funds instantly?
Even though you are managing your emergency corpus, there may be some situation you may face where you need more than your emergency corpus immediately.
In such situation, either you have to ask your friends, relatives or liquidate your investments. Also, if you are sure of such emergency is for few months like 2-3 months, then liquidating your investments or stopping SIP may be a bad idea.
In such situation, where even your friends or relatives not helpful for you, then the option is to avail loan on your investments as a last resort.
How the process of loan against Mutual Funds actually works?
Once you decided to avail the loan against mutual funds, then you have to approach the Banks or NBFCs (Non-Banking Financial Companies). The eligibility is usually like below.
Usually, loans will be sanctioned to those individuals whose age is above 18 years of age. Few banks set maximum age limit also.
Loan against equity funds is allowed to individual holders only but not to Hindu Undivided Families (HUFs), Companies, Partnerships, Sole Proprietors.
However, loan against debt funds may be allowed to individual holders and also Hindu Undivided Families (HUFs), Companies, Partnerships, Sole Proprietors.
Each Bank or NBFCs set minimum and maximum loan amount.
The quantum of loan amount also depends on what type of funds you are holding. In case of equity funds it may be around 50% and in case of debt funds, it may be around 80% to 85%.
Banks or NBFCs may charge you some servicing charges also. Hence, cross check with banks for such charges.
Usually, the interest rate on loan against Mutual Funds will be around 10% to 11%.
Also, all branches of your Bank or NBFCs may not be offering you such facility. Hence, better to cross check with the bank branch.
Banks also may charge pledge and De-pledge fees separately to add a lien and remove the same on your Mutual Fund units.
How Lien and remove the Lien on your mutual funds' units works?
Once you took the loan, then the Bank or NBFCs will write to the mutual fund R&T agents like CAMS or Karvy and ask them to mark a lien on a certain number of units that are being pledged.
The R&T agents, in turn, will mark the lien for your mutual fund units and send a letter Banks or NBFCs with a copy to you (investor) confirming the marking of a lien on the Units.
Once it is done, then you no longer be eligible to sell the units which are in a lien. Even though the units will be in your name, you are eligible only to invest further but not eligible to sell the units which are lined by Banks or NBFCs.
Once the loan is repaid by you, the Bank or NBFCs request for removal of the lien and send a request letter to the mutual fund companies. Your Bank or NBFCs may also request for a partial removal of lien in which case, a lien on some of the units will be removed and these units are 'Free' units. You are eligible to liquidate such free units as per your wish. As such thing will happen with doing some part payments.
What if you default in repaying the loan against Mutual Funds?
If you default in repaying interest and principal, then your lender can enforce the lien i.e. send a signed request to the Mutual Fund to redeem the Units and send the proceeds/cheque to them.
Due to the lien on such units, R&T Agents act according to the bank's instruction. In this way, your lender recovers the loan.
How to avail loan against Mutual Funds instantly?
I hope by now you got the clarity on how the loan against Mutual Funds works. Now let us move on and understand the process to avail loan against Mutual Funds instantly.
As I mentioned above, recently HDFC Bank started to offer instant loan against mutual funds. For this, you have to be HDFC customer and you have CAMS login facility.
Also, as I mentioned above, currently they are offering this facility to around 10 Mutual Fund companies which CAMS serves. The complete list of such approved Funds will be available HERE.
I will explain you the few steps of availing loan against Mutual Funds instantly.
# Visit HDFC Bank Homepage. Click on the link Loan Against securities.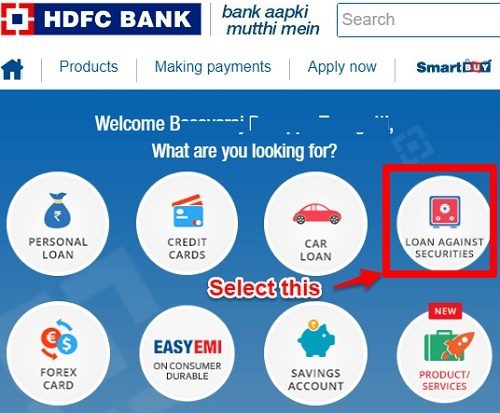 # The next process is to log in to internet banking and then to your CAMS account.
# In CAMS portal you select the funds you want to avail the loan from those.
# Then you will receive an OTP to your registered mobile number.
# Once your OTP verification is successful, then you will see the amount of your loan you can take.
# Then enter the HDFC Bank branch details where you want this OD be required.
# Then again the bank will send one more OTP to confirm the loan application. Once this verification is over, you will receive the loan process confirmed status and also the amount will be visible in your savings account.
You can view the complete process by referring the below video of HDFC Bank.
Advantages and disadvantages of availing loan against mutual funds
Let us first look for advantages of availing loan against mutual funds.
You have instant liquidity from your investment without touching the mutual fund units.
Usually, the interest rate is cheaper than the personal loan.
It will be handy for your emergencies without touching your investment which you meant for your financial goals.
It is a better option than asking your friends, relatives or going for a personal loan.
Now let us look for some of the disadvantages of availing loan against mutual funds.
Higher liquidity of such instant loan facility may sometimes lead to some unplanned spending or expenses. Hence, be careful while availing such facility.
Create higher emergency corpus in such a way that you no need to face such 10% to 11% loan.
You may sometimes end up in paying high interest than what you will earn from the mutual funds.
Use such options as a last one but not the first one.
Do remember that you will not be eligible to redeem the lien units until you clear the loan.
If you default then Banks or NBFCs will directly liquidate the units to recover the units. Hence, you have no option but to sit silently.
10% to 11%+Service Charges is not so cheaper option of loan. Hence, before jumping into this option try other options available with you.