Today LIC launched new plan called "Jeevan Sugam". It is a non-linked single premium limited period plan. This plan will be available for 45 days from now. Let us look at features and who can invest in this plan.
Features:-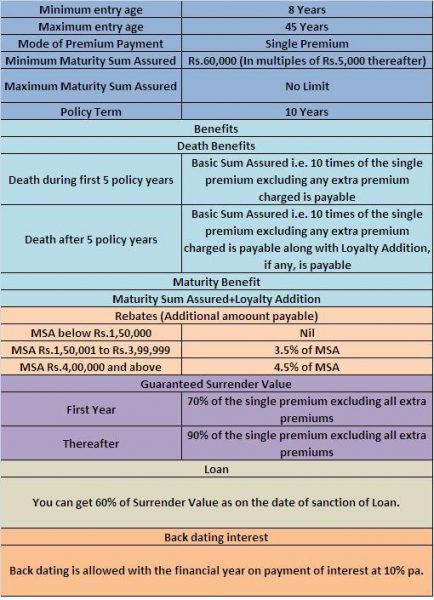 Let us take one example. Mr.X who is 25 yrs old want to invest in this policy. He want to opt for Rs.5,00,000 MSA (Maturity Sum Assured-which is guaranteed amount you receive from this policy). So the amount he need to invest is Rs. 2,86,539 (including service tax). Sum Assured available throughout the period is Rs.27,79,500 (10 times of single premium). Now during the first 5 years of policy if his death occurs then his nominee will receive Rs.27,79.500. But if his death occurs after 5th yr and within 10th year then his nominee will receive this Rs.27,79,500+LA (which is unknown as of now and will be provided as per the rates available at that time). If Mr.X survives till maturity then he will receive the MSA which is Rs.5,00,000+Rs.22,500 (Additional MSA at 4.5% of MSA)+LA.
Is it worth to invest?
Even though premiums may looks as if same but difference of premium for the minimum age (8 Yrs) to maximum age (45 Yrs) for above calculation is Rs. 1,02,884. So if you want to invest in this plan then better to invest in your spouse or kid name to benefit the age factor. Considering the other options available like bank FDs, this plan looks attractive in terms of tax angle too. You can avail the tax benefit under Sec 80C during the period of investment (For insurance policies issued on or after April 01 2012, deduction is allowed for only so much of the premium payable as does not exceed 10% of the actual capital sum assured). Also you can avail the tax benefit under Sec 10(10D) post maturity also under current income tax laws (For insurance policies issued on or after April 01 2012, exemption would be available for policies where the premium payable for any of the years during the term of the policy does not exceed 10% of the actual capital sum assured).
Liquidity is the major drawback of this plan compare to Bank FDs. Because in Bank FDs if you want early withdrawal you will get your invested amount full+interest till that period (which is lesser than the normal rate). But in this plan straightaway you will receive less than what you invested. Hence if you are sure about your waiting period of 10 years then best option.
Let us consider same case to compare the returns. I am considering LA as 10% of MSA which is fair in my view.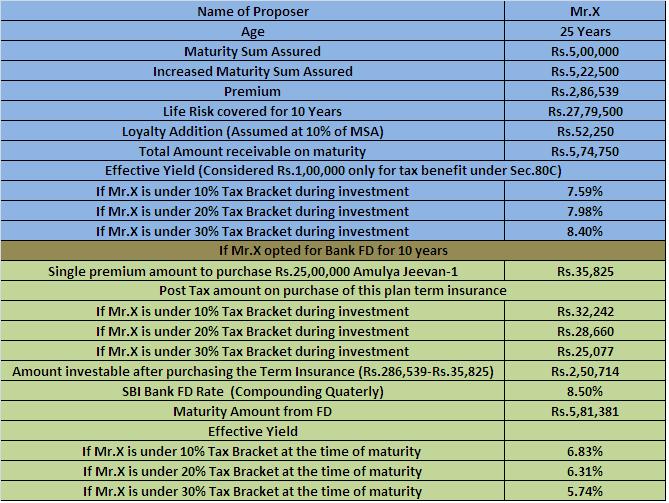 Point to be noted:-
1) If in above calculation of this plan we considered Rs.1,00,000 one time investment and person investing is under 10%, 20% or 30% tax bracket then the yield may be higher. Because in above example investable amount  is Rs.2,86,539, but we can avail tax exemption upto Rs.1,00,000 under Sec 80C.
2) I have not included cess (which is 3% on tax amount) for calculation purpose as it may not make that much difference while calculating yield.
3) For calculation purpose under Term Insurance+Bank FDs, I considered LIC's term plan which is high priced than the private insurers. So if you take term insurance from other insurers which is cheaper, then your overall yield will be higher than what I calculated.
4) For calculating FD rate, I considered current SBI's Term Deposit rate.
From above calculation it clearly shows that competition is neck to neck. So if you chose this plan for your investment then their will not be any harm.
Hence this plan is good for investors who are risk averse and looking for some kind of life risk too. But parking all your portfolio in such low yielding product may not be worth for your long term financial goals.