Recently LIC came up with one more plan other than "New Jeevan Nidhi" on this new year  eve. I already covered the review part of "New Jeevan Nidhi" in my previous post. So let us understand this product and to whom this product is suitable.
This is plan is ULIP (non traditional plan) and LIC claiming it as flexible with provision of protection to your life and long term saving. Plan features are as below.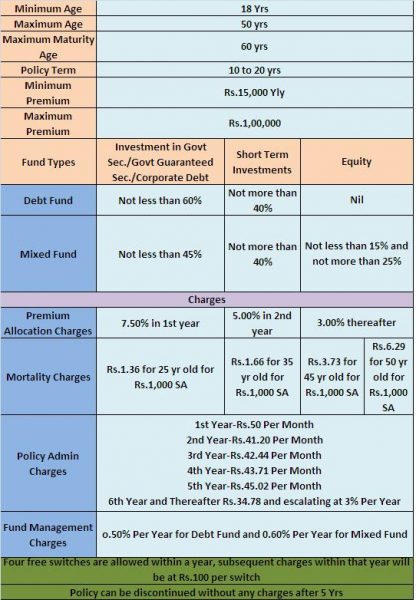 Benefits-
Death Benefit-Immediately Sum Assured will be payable to nominee. Amount equal to future premium payable after death of life assured will be credited to policy holder's fund as the rate applicable on that day. On maturity day, available units under policy holder's fund will be payable to nominee as per prevailing rates.
Survival Benefit-Equal to the policy holder's fund value as on maturity date will be payable.
Can you go for this plan?
Looking from above table you may see that this ULIP have only two fund types (Debt Fund and Mixed Fund), where equity exposure in both funds is nil to maximum of 25%. Hence this ULIP can be called as non equity oriented. Maximum limit is just Rs.1,00,000 per year means concentrating on all class of investors.
Considering this as debt oriented ULIP means cost looks costlier when you compare with debt funds where expense ratio hover from 1.2% to 1.75%. I saw few reviews of this plan where they directly calculated the expense ratio of equity mutual fund by considering highest expense ratio (2.5%), which I think not fair. Because first of all this ULIP is not equity oriented and second thing their are lot of funds whose expense ratio is less than 2% (in equity too).
Please also note that policy admin charges and fund management charges may revive in future. But with certain limits. Hence considering the above mentioned expenses are constant may cost you more too. Loan on this policy is not allowed.
Liquidity is not easy within 5 years. This is not the case with mutual funds. You can liquidate even after 2-3 years too by shifting into other mutual funds. Only death benefit looks different to conventional ULIPs. But to get the full benefit you need to wait till the maturity of the policy.
So this plan does not have any wonderful features which can really attracts investors. Instead as a thumb rule, separate insurance with investment by taking term insurance and if investing the rest in PPF (if you are totally risk averse) may generate more return than this.