On 10th February 2016, the Ministry of Labour and Employment, Government of India, made few amendments to EPF withdrawal process. This I think will create some introspection to those who used to be frequent withdrawer of EPF.
Let us see those four changes in detail.
Note-How to combine or consolidate multiple EPF Accounts online?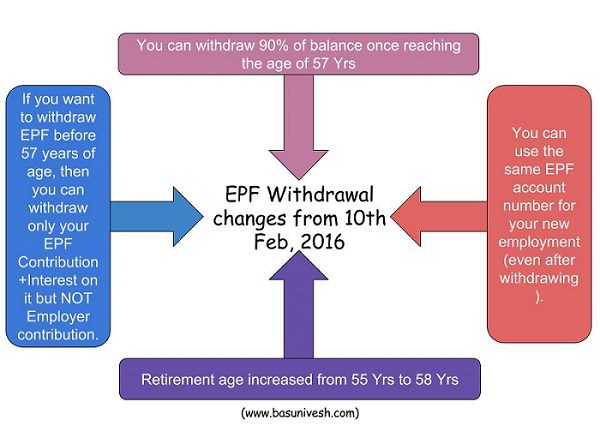 1) You can't withdraw EPF full balance before attaining the age of 58 Yrs.
After so much of revolt by employees unions, the Government finally withdraw all changes. It is now clear that the old EPFO withdrawal rules will be followed. Below are the current rules as of the press release. 
You are allowed to withdraw the EPF amount including employer share in below conditions ONLY.
# On retirement from service after attaining the age of 55 years.
# On retirement on account of permanent and total incapacity for work due to bodily or mental infirmity.
# On migration from India for permanent settlement abroad.
# On termination of service in the case of mass or individual retrenchment.
# On termination of service under a voluntary scheme of retirement.
# On ceasing to be an employee in any establishment.
2) You can use the same EPF account for future employment (even after withdrawal).
Earlier, when you apply for EPF withdrawal, then automatically it consists of employee share, employer share, interest on that and EPS share as per the length of service. After that, such account is treated to be terminated.
As you can see from above first change, you no longer allowed to withdraw fully. So the account will be live until you reach the age of retirement. Hence, you can use the same account for future jobs. I mean you can continue the same EPF account once you join the new company. This automatically transfer the EPF account.
Also, with new UAN feature you can continue the same old EPF with just quoting your UAN to a new employer.
3) Retirement age increased from the current 55 years to 58 years.
Earlier the retirement age for EPF was 55 years. From now onward, it is increased to 58 years. I think this is a good move. Because all other rules related to investments consider retirement age 60 years. So EPFO moving towards that.
4) You can withdraw 90% of EPF balance once you reach the age of 57 years.
Earlier the retirement age of EPF was 55 years. So one is allowed to withdraw 90% of his or her balance at the age of 54 years. This means one year prior to retirement. Due to increase in age of retirement, it now changed to 57 years.
A detailed post on EPF withdrawal and advance was written by me earlier. Refer below link for the same.
These moves, I may say are acted to restrict the frequent withdrawer. Instead making them to force for long-term contribution and create a wealth for retirement.